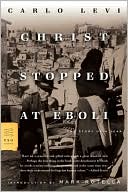 Carlo Levi, the Italian writer, painter, doctor, and politician, was born on this day in 1902. Levi's midcentury fame came from Christ Stopped at Eboli, his novelized account of the time he spent in political exile, 1935-36, in the Lucania region of southern Italy (now Basilicata), for having criticized Mussolini and the Fascist regime. The book is a compassionate record of an impoverished region and a peasant class forgotten by those at the highest levels. As explained in the opening paragraphs, the book's title comes from a regional expression that reflects a bitter despair:
Christ never came this far, nor did time, nor the individual soul, nor hope, nor the relation of cause to effect, nor reason nor history.… No one has come to this land except as an enemy, a conqueror, or a visitor devoid of understanding. The seasons pass today over the toil of the peasants, just as they did three thousand years before Christ…. [T]o this shadowy land, that knows neither sin nor redemption from sin, where evil is not moral but is only pain residing forever in earthly things, Christ did not come. Christ stopped at Eboli.
Intrigued by Levi's account of the region, travel writer David Yeadon recently spent a year in the same small mountain town where Levi lived. Yeadon's Seasons in Basilicata (2005) focuses on the food and friendliness, portraying the region today as more unforgettable than forgotten.

Levi could also write in a more convivial vein: Fleeting Rome, a recently published collection of miscellaneous writings, is subtitled "In Search of La Dolce Vita." The book captures and celebrates the city's spill-over life, though Levi's compassion for the marginalized is often near the surface. In the following monologue, a cigar-smoking taxi driver tells a sports-crazy café crowd that he is more of a football than a football fan:
When I was seven years old (and you know this very well) my mother and father died: I began to play at life. Then I went off to be a soldier: seven years at war, four wounds, three medals (who knows why): I had to play at war. I came back permanently disabled: I couldn't have children, but it turns out that according to public records I have kids (they were my wife's). What can you do? I played at having a family. Then, for the rest of my life, I played with hunger and poverty: and I always lost. Now I am an old man, I am sixty-five years old and there is only one game left to play…
---
Daybook is contributed by Steve King, who teaches in the English Department of Memorial University in St. John's, Newfoundland. His literary daybook began as a radio series syndicated nationally in Canada. He can be found online at todayinliterature.com.