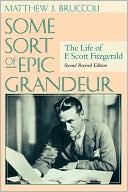 November 19: F.Scott Fitzgerald's only professional play, TheVegetable, got its only performance in his lifetime on this day in 1923—atryout in Atlantic City at which no producer expressed interest. Subtitled "FromPresident to Postman," the satire announces its inspiration with aprefatory quotation taken from "a Current Magazine":
Any man who doesn't want to get on in the world, to make amillion dollars, and maybe even park his toothbrush in the White House, hasn'tgot as much to him as a good dog has—he's nothing more or less than avegetable.
Fitzgerald wrote the comedy while working on The Great Gatsby, and the two share somecommon ground—flappers, bootleggers, ordinary folks beckoned by the greenlight, in this case the idea that anybody can and should be President. WhenJerry, a nobody with zero ambition, is installed in the Oval Office, the nationdescends into chaos and Fitzgerald's satire turns political. Enter GeneralPushing, fresh from a meeting of military commanders and anxious to push hisagenda:
GENERAL PUSHING. I knew things weren't going very well with you, Mr.President…. The people are restless and excited. The best thing to keep theirminds occupied is a good war. It will leave the country weak and shaken—butdocile, Mr. President, docile. Besides—we voted on it, and there you are.

JERRY. Who isit against?

GENERAL PUSHING. That we have not decided. We're going to take up the detailstonight….
President Jerry declines to go to war, whereupon he isimpeached by Chief Justice Fossile and the Senate Committee onInefficiency.
By all accounts, Fitzgerald's own year-long military career,which began in Fort Leavenworth on this day in 1917, was less thandistinguished. He spent much of his time in uniform writing his first novel, The Romantic Egoist, his notebook hiddenbehind his copy of Small Problems forInfantry. He made no impression upon the captain in charge of his platoon,Dwight D. Eisenhower, and such an unfavorable one upon his other seniorofficers that his training had to be extended. One story describes him goingAWOL while on leave, later showing up with a bottle and two women; anotherdescribes him falling off his horse while on parade, and being given extrariding lessons.
---
Daybook is contributed by Steve King, who teaches in the English Department of Memorial University in St. John's, Newfoundland. His literary daybook began as a radio series syndicated nationally in Canada. He can be found online at todayinliterature.com.