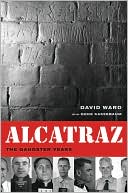 The first federal prisoners arrived at Alcatraz on this day in 1934. Al Capone was among those who arrived in the first transfer shipments, and "Machine Gun" Kelly followed in September, giving David Ward the title for his 2009 study, Alcatraz: The Gangster Years. Alcatraz may have been a jailbird's Harvard to some—Ward says that hanging out with Al Capone and other members of the America's Most Wanted club was "akin to gaining admission to the most prestigious law school or graduate program in the nation"—but for many it was just another, and final, stop.

Among the most poignant of Ward's case studies of "Outlaws Among Outlaws" is the story of James Grove, who was the furthest thing from a celebrity con. A foster child, Grove had started serving time at age fourteen, for burglary. His assessment at Leavenworth Penitentiary described borderline intelligence and psychopathic tendencies, and recommended the mental ward. His first disciplinary report at Alcatraz—there were thirty-four over twenty years, many describing violence and warranting an isolation cell—came four days after his arrival, his first suicide attempt not long after that. By 1953 Grove had the lowest prison number of all inmates, having been in Alcatraz the longest. Over those two decades he had received no letters and only one visitor, an attorney. "It's worse that Hell," Grove wrote in one of his letters to the attorney general,"…with the sea gulls and fog horns, and wind blowing fifty miles an hour and nothing but silence."

But Grove's conduct eventually improved. He earned back some of his lost "good time," and in 1959 he was returned to Leavenworth. Then, on this day in 1961—just days before his scheduled release from over four decades of confinement, two decades spent on the Rock—he was found dead in his cell. His suicide note stated that he had lost "any hope for a free clean life outside the Walls," and any tolerance for life within them:
…I have nothing to leave, only regrets that I am one colored man who will not shine a guards shoe. Rather than do that as I am being forced to do, I take my own life. It was not hard to smile, keep a civil tongue, and even take care of the officer's dirty and clean clothes. But the shine one damn pair shoes…. Not Jimmy Groves.… Lt. Concannon said, "Why Jim colored people always shine shoes. Colored people always like to shine shoes." Very nice thinking on his part. I am sure he will find the colored man who likes to shine shoes.
---
Daybook is contributed by Steve King, who teaches in the English Department of Memorial University in St. John's, Newfoundland. His literary daybook began as a radio series syndicated nationally in Canada. He can be found online at todayinliterature.com.