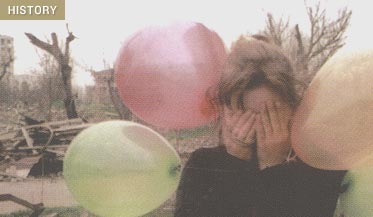 Here's a true story:

Jasna Ploskić, more than anything else in the world, would like to find a pair of red rubber boots in a mass grave in Bosnia. Any mass grave will do.

Jasna is a Bosnian Muslim. In June 1992, she was trying to escape from marauding Serbs by crossing a mountain in eastern Bosnia with her husband, Hasan, and their two children. They were caught. Hasan was packed off on a truck and — Jasna later learned — shot in the head before being toppled into a limestone pit. Jasna and her four-year-old son, Amar, and her baby daughter, Aila, along with about 50 other Muslim women and children, were locked for four days without food and water in a cellar in the eastern Bosnian city of Nevesinje. On the fourth night, when Jasna was taken to a lakeside motel and raped, she was forced to leave Amar and Aila behind in the locked cellar.

A couple of days later, Jasna was saved by a Serb officer who happened to be a pre-war acquaintance of another rape victim with whom Jasna was imprisoned. This officer told Jasna that her children had just been traded for some Serb prisoners held by Muslim forces and that they were safe in Mostar. He led her to the foot of a mountain. She crossed it in the dark, this time making it to a Muslim refugee camp in Mostar. There, finding her mother-in-law, she asked joyfully, "Where are the children? The children arrived here yesterday. A whole busload." Her mother-in-law answered, "Jasna! No children have arrived. There aren't any children here."

In Wojciech Tochman's Like Eating a Stone: Surviving the Past in Bosnia, we meet Jasna nearly a decade after these events. Now a deputy to the head of the Mostar division of the Bosniak Commission on Missing Persons, she travels often to exhumations of pits and secondary mass graves in the mountains of eastern Bosnia. The exhumations are carried out by a Polish forensic scientist named Ewa Klonowski. Jasna remembers that her son, Amar, was wearing red rubber boots. She desperately wants to know what happened to her children — which summer day, which truck, which pit. But she still hasn't found the boots, and thus her children, after nine years, are still, in a sense, locked in that cellar in Nevesinje, crying from thirst, hunger, and fear. They have been buried alive.

In the passenger seat of a car in August 2001, on her way to another exhumation, Jasna gazes out the window at the stony landscape of the region now called the Serb Republic of Bosnia and Herzegovina. "I was born here," she says, "and I died here." After a moment's silence, she goes on. "Life is just an imitation."

I've recounted Jasna's story at some length because it's the best way to convey a feeling for the texture of Tochman's almost unbearably painful but essential book of reportage and witness. Like Eating a Stone is primarily a compilation of the stories of survivors of the Bosnian genocide, told with extreme simplicity. Its devastating cumulative effect derives precisely from this simplicity, along with the text's silent, dignified refusal ever to avert its gaze:


Jasna found her husband.
Dr. Klonowski stuck his skull back together.
There was a funeral.

Like John Hersey's Hiroshima and the books of W. G. Sebald (Tochman's book, like Sebald's works, includes deliberately undramatic black-and-white photographs that play off the text in unexpected and moving ways), Like Eating a Stone gives the impression of having been written not so much with open eyes but with eyes whose lids have been burned away.

Here's Mejra Dautović, in an auditorium on the floor of which are spread out clothes recovered from a mass grave in Kevljani. The clothes have been removed from the skeletons, laundered, and pieced together to help families identify the bones that are bagged elsewhere. Mejra leans over item KV104 to lovingly straighten the leg of a pair of dark trousers matched with a light shirt and red sweater. "This is Edvin," she says. "My son." Later, when she learns how many bones were broken in skeleton KV104 while the person was still alive, she refuses to believe it's her son. Later still, a DNA test proves that KV104 is indeed Edvin. There can be a funeral. Tochman writes, "Who would have expected it — joy in Mother Mejra's house."

Joy. As readers, we accept it, yet most of us, mercifully, have the luxury of finding it incredible. We don't really meet these people — Mejra; Jasna; the half dozen other families whose searing stories Tochman relates. One of their punishments is that they have been exiled to a place where they can't be asked to meet us; they can't be expected to care in the least. Their faces are turned to the wall. Beyond sociability, they must speak. We can still choose to listen.

Or not. This material first appeared in Poland in a number of articles published between 2000 and 2003 (some repetitions from the serial publication awkwardly remain), yet it has only now been translated into English. Recalling the hundreds of reporters and cameramen who crowded Sarajevo in 1993 and 1994, Tochman writes, "But when the war ended…the reporters packed up their cameras and headed off to other wars." I fear that this small, brave book, published by a small press, will not get a hundredth the attention it deserves.

One of the least-covered aspects of the aftermath of the Bosnian war has been the plight of the area's Serbs, and here Tochman teases out a fascinating point. The Serbs he presents are, in the main, also victims, though not of a directed violence in any way comparable to that suffered by tens of thousands of Muslims. Instead, they are victims of an ironclad ideology of victimhood encouraged in them by their idiotic leadership. In the newly all-Serb city of Nevesinje, the district governor emits the usual nationalistic turd of unreal vapidity: "Welcome! Look how beautiful our Serbian land is." But there are no jobs; there are no buses running to other towns; each street has its share of haunted houses. Here, as in other towns of the Serb Republic, some of which once held Muslim majorities, many Serbs do nothing but sit on stools in the empty streets. "In the morning they place their hands on their knees and sit staring, without moving, until late afternoon, or right into the evening. They burn very few calories, so they don't have to eat much." The younger men run from cameras, lest their snapshots be recognized by a Muslim family who might report them to the International Criminal Tribunal. "The Muslims disgust us," they say. "They killed the Serbs." It's a portrait of a frozen existence in some self-assigned circle of Hell.

Meanwhile, in that same city of Nevesinje, Jasna's children are still crying in the locked cellar. If the Serbs could only hear them, they would take their first step toward the upper world. But the children's cries are drowned out by other voices. When asked by a journalist about the murder of approximately 500 Muslim citizens of Nevesinje in 1992, the Serb commander of the region responded, "Why don't you ask me about the mass graves of Serbs dating from 1941?"

Tochman's book is a dazzlingly effective evocation of a community's violent history — a tableau of its intentionally unexplored caves, their dark mouths scattered through the landscape like wounds ever raw.