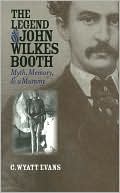 April 14:Abraham Lincoln was shot on this day in 1865, dying the following morning. WaltWhitman's diary records his frequent sightings of Lincoln in Washington duringthe Civil War. One of Whitman's snapshots describes the President passing bywith his cavalry guard, dressed "as the commonest man," his face "withthe deep-cut lines, the eyes, always to me with a deep latent sadness in theexpression." "When Lilacs Last in the Dooryard Bloom'd," Whitman'slament for the nation's "powerful western fallen star," was publishedseveral months after the assassination:
Coffin that passes throughlanes and streets,

Through day and night,with the great cloud darkening the land,

With the pomp of theinloop'd flags, with the cities draped in black,

With the show of theStates themselves, as of crape-veil'd women, standing,

With processions long andwinding, and the flambeaus of the night,

With the countless torcheslit—with the silent sea of faces, and the unbared heads,

With the waiting depot,the arriving coffin, and the sombre faces,

With dirges through thenight, with the thousand voices rising strong and solemn;

With all the mournfulvoices of the dirges, pour'd around the coffin,

The dim-lit churches andthe shuddering organs—Where amid these you journey,

With the tolling, tollingbells' perpetual clang;

Here! coffin that slowlypasses,

I give you my sprig oflilac….
Booth also had hiseulogists, the anonymous author (perhaps the Texas judge A. W. Tyrell) of "OurBrutus" praising him as a heroic tyrant-killer:
He hath written his namein letters of flame

O'er the arch way of Liberty's portal,

And the serfs that nowblame shall crimson with shame

When they learn they have cursed animmortal!
The desire for Booth'simmortality is reflected in C. Wyatt Evans's The Legend of John Wilkes Booth: Myth, Memory and a Mummy (2004).The mummy in question was in reality that of a frontier drifter, but it toured incarnival sideshows throughout the 1920s, purported to be "JOHN WILKES BOOTH—HIMSELF—MURDEREROF ABRAHAM LINCOLN" and "An Exhibition for the Correction of AmericanHistory"—the correction being the legend that Booth had eluded his captorsand survived for decades.
---
Daybook is contributed by Steve King, who teaches in the English Department of Memorial University in St. John's, Newfoundland. His literary daybook began as a radio series syndicated nationally in Canada. He can be found online at todayinliterature.com.