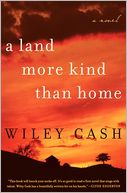 Dear Reader,
It's sometimes hard to remember that A Land More Kind Than Home is actually a first novel*, given the authority and cadence of its young author's prose and the voices his characters possess.
I had the good fortune to meet the very smart and equally funny native North Carolinian last winter, and am happily turning today's post over to him.
Cheers, Miwa
(*Cash has some bad adolescent poetry in his past, but more about that in a conversation with the author posting next week.)
Wiley writes:
Set in the mountains of North Carolina, A Land More Kind Than Home tells the tragic story of nine-year-old Jess Hall and his older, autistic brother, who everyone calls Stump, after they witness something they should not have seen. Narrated by three characters – Jess; Adealide Lyle, a midwife and moral conscience of the town; and Clem Barefield, a local sheriff with his own painful past – A Land More Kind Than Homeis a haunting tale of courage in the face of cruelty and the power of love to overcome the darkness that lives in us all.

I'm a North Carolina writer and this is a North Carolina novel, but I wrote it while living in Louisiana and revised it while living in West Virginia. I was desperately homesick for North Carolina the moment I left in 2003, but I found that I could return home whenever I sat down to write or opened a book by one of my favorite North Carolina authors. Music does the same thing for me; it takes me back. I wrote A Land More Kind Than Home with my favorite Southern musicians in the background, and these are the songs I listened to.

Malcolm Holcombe – "Justice in a Cradle" from One Hundred Lies

In order for Jess and Stump to witness the event that kick-starts the story, I needed to find something for the boys to stand on when they could look in their parents' bedroom window, but I couldn't settle on anything that seemed to work. I tried tree limbs, broken-down cars, and even an old ladder. One day, I was listening to Holcombe's "Justice in a Cradle," a song about losing the innocence of childhood, and when I heard the words "skinny arms wrapped around the rain barrel" I suddenly pictured Jess with his arms wrapped around a rain barrel on the side of his house, keeping it steady as Stump stood on top and tried to peer in a window. The song closes with the line "pry my arms far, far from the rain barrel," and again I imagined Jess forcing himself to let go of the barrel after Stump falls, knowing that in letting go his life and his childhood would be irrevocably changed. This scene is the catalyst for the boys' story, and, in many ways, this song is too.

Pine Hill Haints – "Don't Wait for Six Strong Men to Carry You to Church" from Those Who Wander

Everything about this band is haunting, from their music, to their dress, to their live performances. To see them on stage is to imagine a group of musicians stepping out of Depression-era Alabama and bringing their stories of struggle and strife with them. The title of this song is particularly haunting as well, and I imagined Adelaide Lyle feeling this way as she stands outside the little church after being summoned by Pastor Carson Chambliss. She hasn't stepped a foot inside the church in over a decade, and even though its papered-over windows make it impossible for her to see inside, she can imagine Chambliss sitting inside alone, waiting for her to open the door and step into the darkness.

Brandi Carlile – "Have You Ever" from The Story

As a result of his autism, Stump is often overwhelmed by the noise of the world and the activity of his family in the house. Because of this, Stump's mother turns an old shoebox into a refuge of memory that contains old photographs, trinkets, and keepsakes that he can go to if he's feeling overwhelmed. His family calls this his "quiet box." I first heard this song after moving to the tiny village of Bethany, West Virginia, during a particularly overwhelming time in my life. One warm summer night, a group of people I'd recently befriended were sitting outside by a fire, strumming guitars and singing this beautiful song. I listened to their voices as they carried up toward the treetops and into the dense woods across Buffalo Creek. It was one of those peaceful moments in life when you find yourself saying, Remember this. Remember this. I'll never forget the way I felt that night. This is how Stump's "quiet box" makes him feel. At least I hope so.

Patsy Cline – "Sweet Dreams of You" from Greatest Hits

For many people, especially those born in the 1940s and 1950s, Patsy Cline was and still is the voice of the South. Her music, high and lonesome out of the Virginia hills, means something to Jess – memories of his mother and father in happier times: his father playing records in the living room, flirting, trying to coax Jess's mother to dance with him. But now, even though he's only nine years old, Jess is aware of the pervasive sadness in Cline's voice, the longing for good times passed by, and, after his family is torn apart by tragedy, the knowledge that sometimes broken hearts and broken families can't be mended.

Porter Wagoner – "Eleven Cent Cotton" from Wagonmaster

While it's slowly moving away from an agrarian economy, western North Carolina was once a large producer of burley tobacco, and farmers dedicated sprawling swaths of land and huge barns to growing and curing burley. But because the state regulated the amount of crops farmers could harvest, including tobacco, farmers were often stuck owning and paying for land they couldn't farm. This song illustrates the struggle many families faced while trying to make a living from the earth. It's no wonder that so many of them left the country and moved into the cities to start anew.

Shannon Whitworth – "Spring Is Here" from Water Bound

I first heard Shannon Whitworth's incredible voice when she was playing with an Asheville, NC band called The Biscuit Burners, whose brand of self-described "fiery mountain music" launched them onto the national bluegrass scene in 2004. Whitworth's wise, soulful voice and lyrics are grounded in a sense of place that is almost palpable. Hers is the voice I heard as Adelaide Lyle told me her story, especially her tale of leaving Madison County in 1919 at the age of fourteen for the big city of Asheville, where she took a job in the man's world of tobacco speculation. Adelaide is a tough, world-weary woman with a sensitive heart; I could describe Shannon Whitworth's voice and her music in those same terms.

Old Crow Medicine Show – "Take 'Em Away" from Old Crow Medicine Show

This is a song about the trouble and heartache we face in this world, but it's also a prayer for deliverance: "Take 'em away, Lord / Take away these chains from me / My heart is broken because my spirit's not free / Lord, take away these chains from me." I imagine this would be the prayer of several characters in A Land More Kind Than Home. It's probably the prayer of a lot of people, regardless of to whom or to what they pray.

Charlie Rich – "Feel Like Going Home" from Feel Like Going Home: The Essential Charlie Rich

This song could serve as the coda for A Land More Kind Than Home. I think I knew how the novel would end before I even began writing it, but I had no idea how the characters would react to what happens in the final scenes. Would the community come together? Would there be a place for Adelaide? For Jess? Could Clem overcome his past and move forward in his life? This is a novel about people who do the best they can with what they're given, and that's how the rest of us live as well. We all hope that, regardless of how we live and how our lives affect others, there will always be a place for us when it's time to return home.
---

Miwa Messer is the Director of the Barnes & Noble Discover Great New Writers program, which was established in 1990 to highlight works of exceptional literary quality that might otherwise be overlooked in a crowded book marketplace. Titles chosen for the program are handpicked by a select group of our booksellers four times a year. Click here for submission guidelines.