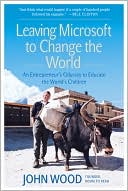 Today is International Literacy Day, as proclaimed by UNESCO in 1965. UNESCO annually hands out several substantial monetary awards to governmental or private literacy initiatives. One of the two recipients for the 2011 Confucius Prizes is the international nonprofit organization Room to Read, now in its eleventh year. Room to Read delivers English-language books to underfunded schools in Asia and Africa and also publishes native-language books for school-age children.

John Wood's Leaving Microsoft to Change the World (2007) tells the inspiring story of how Room to Read began. In 1998 Wood decided to take a break from living "the commando lifestyle of a corporate warrior." His idea of an escape from the fifteen-hour days and airplane nights of his Microsoft job was a three-week hike in the Himalayas. At the end of his first day, at a small trekker's lodge in Nepal, he met another hiker, a government education officer making his rounds of some remote rural schools. Wood learned that Nepal's illiteracy rate was 70 percent (lower for males, higher for females) and sympathized with the officer's plight: "I am the education resource person, yet I have hardly any resources."

The next day, Wood accompanied his friend on a tour of one of the rural schools. The 450 students were happy, the teachers were welcoming, and the school library, to Wood's amazement, was totally barren:
"This is a beautiful library room. Thank you for showing it to me. I have only one question. Where, exactly, are the books?"

The headmaster stepped out of the room and began yelling. A teacher appeared with the one key to the rusty padlock on the cabinet where the books were locked up.… The school had so few that the teachers did not want to risk the children damaging them. I wondered how a book could impart knowledge if it was locked up, but kept that thought to myself.

My heart sank as the school's treasure trove was revealed. A Danielle Steel romance with a couple locked in passionate and semi-clothed embrace on the front cover. A thick Umberto Eco novel, written in Italian. The Lonely Planet Guide to Mongolia. And what children's library would be complete without Finnegans Wake?
Pledging to help, Wood began by asking his friends to donate books; a year later he quit his job in order to run Room to Read, which has now distributed almost 10 million books, the first shipment delivered to that Nepalese school on the back of a yak.
---
Daybook is contributed by Steve King, who teaches in the English Department of Memorial University in St. John's, Newfoundland. His literary daybook began as a radio series syndicated nationally in Canada. He can be found online at todayinliterature.com.