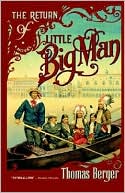 The American novelist Thomas Berger was born on this day in 1924. Over a half-century career, Berger has written two dozen novels in a range of styles, many of these highly praised by the critics but not often popular successes; the New York Times reviewer of Neighbors (1980) saying the novel "raises yet again the embarrassing question of why Thomas Berger isn't more generally recognized as one of the masters of contemporary fiction." A few years later the embarrassment got worse when the Pulitzer board rejected its committee's unanimous recommendation of Berger's 1983 novel, The Feud.
Sitting Bull, the Sioux Indian chief, surrendered to federal authorities on this day in 1881. Berger's biggest hits were Little Big Man (1989) and the 1999 sequel, The Return of Little Big Man, both of which display his sardonic sense of humor. In the second book, one of Buffalo Bill's Wild West Show scouts, a hustler by the name of Arizona John Burke, does his best to recruit Sitting Bull for the stage. Because AJB does not know Cheyenne, LBM has to translate for CSB, who quickly decides that he has heard enough PR from the forked tongue:
"Have you been telling me exactly what this fat man says in English, or have you made some changes?"

"I have cut it in about half."

"Still too much of it is empty wind," said Sitting Bull. "You might cut that half in half. Up to now he has been talking for himself."

Thinking his spiel was going over, Arizona John proceeds, "Chief, I assure you that the acclaim which will greet you on each and every appearance with what Colonel Cody modestly calls an exhibition but to the great American public is an extravaganza the like of which has never been known since the dawn of mankind."

"He just said more of the same thing he said before," I told Sitting Bull.

"Tell him I'm going to cut his throat and then scalp him."
Knowing this was his Indian idea of a joke, I admit I found it funny myself, so I laughed.

"Well," Burke says smiling too, "we seem to be hitting it off nicely…."
---
Daybook is contributed by Steve King, who teaches in the English Department of Memorial University in St. John's, Newfoundland. His literary daybook began as a radio series syndicated nationally in Canada. He can be found online at todayinliterature.com.