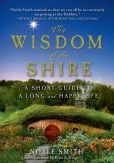 Over the wide solitude they passed and their elven-cloaks faded against the background of the grey-green fields; even in the cool sunlight of mid-day few but elvish eyes would have marked them, until they were close at hand. Often in their hearts they thanked the Lady of Lorien for the gift of lembas, for they could eat of it and find new strength even as they ran.
J.R.R. Tolkien was born on this day in 1892. One chapter in Noble Smith's The Wisdom of the Shire is titled "Eat Like a Brandybuck, Drink Like a Took," this a culinary life lesson based on the fact that Tolkien had his creatures "turn to food for comfort in nearly every situation" — lembas bread while on the road, "something hot out of the pot" with "taters and carrots" while at rest. The Hobbits' first choice, reflects Smith, was something not only simple and homey but homegrown:
Is it possible to survive like this in our modern age? The answer is an emphatic "yes," and people are doing it all over the world. It's called being a locavore. Give it a try. See how much food you can discover to eat that's produced within a hundred miles or so of where you live. Nowadays, the average food item on our grocery store shelves travels up to fifteen hundred miles before it gets there. That's just about the distance from Hobbiton to Mount Doom.
---
Daybook is contributed by Steve King, who teaches in the English Department of Memorial University in St. John's, Newfoundland. His literary daybook began as a radio series syndicated nationally in Canada. He can be found online at todayinliterature.com.