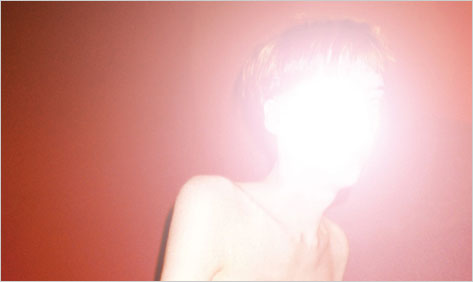 Covered in fake blood and a dress borrowed from Kurt Cobain's wardrobe, Bradford Cox came on at first like a punk, even though he wasn't. For the jagged post-punk that darkly colored his band Deerhunter's breakthrough, Cryptograms, it was the brief pop epiphanies on its second half that staked out the group's future; likewise, the sound on his solo debut as Atlas Sound (the outstanding Let the Blind Lead Those that See but Do Not Feel) was distressed and anxious but somehow still pop, ghostly floating on warm bubbling bass lines equal parts Neu! and Spector, through an Eno-esque smog. The critical reception those albums received made his outsider stance a little harder to tend. As did guest spots on Grizzly Bear and Karen O records and appearances in ads for Chuck Taylor's. (As did duets with Spoon and backstage beefs with Billy Corgan.) Cox's second Atlas Sound full-length, Logos, finds the songwriter collaborating with members of the Animal Collective and Stereolab. Outsider no more, Cox fortunately offers as much invention from the inside, even if he's lost the ability (or will) to shock.
In general the music on Logos is more relaxed and open than its predecessor, the mix lighter, defrosted. The chorus of "Attic Lights" is caught in a celestial updraft that recalls the drifting, foggy flights of Let the Blind, though Cox builds his heaven here with simpler tools: a single violin's slow careen substitutes for the gauzy clouds of synthesizers; a simple counting snare and tom instead of spitting drum machines; his slightly tinny voice cooing against its out of synch second for the chorus of ghosts that voiced the first record. Many of the record's best moments even admit some joy, a rarity for Cox. "Shelia" is as open and bright a song as Cox has ever written, a three-chord jangle like a garage-rock Smiths, its lyric full of sweet sorrow ("No one wants to die alone" is less a cliché than a confession when sung by such a symptomatic loner); the Panda Bear collaboration "Walkabout" is as pretty and bouncy as anything on Person Pitch, its lyric inverting traditional Cox themes — isolation, captivity and escape — stripping the terror from Cox's haunted version of freedom. Built on a Kraut-rock bop and slash groove, "Quick Canal" features Stereolab's Laetitia Sadier's whirling, lilting vocal telling "I looked in the dirt and saw wisdom is learned." Weird words to hear on a record from Cox, who last year was imagining himself humiliated, exposed "on a cross in front of my closest friends."
For the most part Cox stays in his musical comfort zone on Logos; even the big beat and the dubby sway of "Walkabout" and "Washington School" are prefigured in his cover of "Knife" on Grizzly Bear's Friend EP. On the record's final eponymous song though Cox makes a dazzling turn left. Over a brittle clopping country drum line and a two-note bass part, under a buzzing synthesizer that follows the swooping sawing patterns a slide guitar might normally sketch, Cox unspools his lyric with a stoned detached cool that evokes Dylan at his weariest. "Everything makes sense when you look at it from another way," Cox sings on this mutant rockabilly stomp. The truth of the statement he lets his consistently stunning music prove.