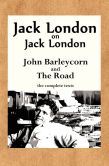 On this day in 1876 Jack London was born, and on this day in 1893, London's seventeenth birthday, he signed on for an eight-month stint as deckhand aboard the Sophie Sutherland," a San Francisco sealer heading for the China Seas. The sealing voyage gave London his first published story and later his second bestseller (The Sea Wolf, 1904), but it is those first seventeen years, taken all in all, that put the stamp on London's remarkable life.
London's parents seem themselves to have stepped from books. The man who was likely his father, William H. Chaney, was a runaway orphan, eventually a newspaper editor who was run out of town for inciting a religious riot. He reinvented himself as Professor Chaney of the Eclectic Medical University of New York, selling "astro-botanical" plants to cancer patients; after some jail time, he changed coasts and cure, becoming an "astro-theologian" in San Francisco. In this capacity he met London's mother, herself a runaway at age sixteen, now a piano teacher and psychic. She became the professor's helpmeet and mistress, until she told him she was pregnant. Chaney was still denying paternity twenty-one years later, when Jack wrote to ask.
London's mother and her eventual husband never prospered in any of their schemes, and Jack was forced out of school and into work: iceman's apprentice, junk trader, factory boy, oyster poacher, catcher of oyster poachers. As told in John Barleycorn, written near the end of his life, London's first boat was a skiff bought with wages he was supposed to hand over to his mother. His second boat was a tall-masted sloop, bought at age fifteen from French Frank, in a deal that was sealed in the First and Last Chance Saloon and made Jack captain not only of the Razzle Dazzle but also of Maimie, who came with the boat. All his fights were with sea-dogs who had sledgehammer fists; all his drunks were marathons of fun and near-fatal danger. But by such voracious living and by constant reading — the books London took aboard the sealer included Anna Karenina and Madame Bovary — the seventeen-year-old, who had never gone to high school, was able to fashion his description of a typhoon in the China Seas into a prizewinner, taking first place over students from the University of California and Stanford.
---
Daybook is contributed by Steve King, who teaches in the English Department of Memorial University in St. John's, Newfoundland. His literary daybook began as a radio series syndicated nationally in Canada. He can be found online at todayinliterature.com.