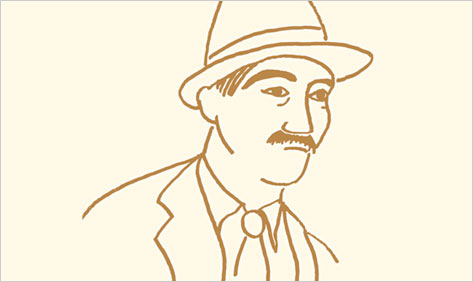 An odd fact about Nathanael West appears in the second paragraph of Marion Meade's Lonelyhearts: The Screwball World of Nathanael West and Eileen McKenney. West's novels, she tells us, were republished by the Library of America in 1997, and "At number 93, he was the first Jewish writer enshrined in an elite pantheon."
"Jewish writer" — to say nothing of the "first" — is not an appellation many readers would naturally apply to Nathanael West. But thanks to Meade's biography, West's assimilationist upbringing will no longer be forgotten. Nor will be the two women, Eileen McKenney and Ruth McKenney, whom Meade brings along in this dual — or more accurately triple-biography. West was unjustly neglected as a writer during his lifetime, and is now being recanonized, with his Jewish heritage a visible part of the picture. By contrast, the McKenney sisters were famous during their lives, and have been, unfortunately, forgotten.
Nathanael West was born Nathan Weinstein in 1903 to Lithuanian-born mother Anna and father Max. The family lived on New York's Upper West Side, with a comfortable income from Max's real estate developments. The Weinsteins and their many relatives valued education, and most of Nat's cousins attended Ivy League schools. Nat, however, was never a strong student, and by high school he spent most of his days truant, in the New York Public Library, reading Dostoevsky and Tolstoy. He lied his way into Tufts University by forging a transcript — with his parent's complicity and knowledge. "[i]ssues of right and wrong — the morality of stealing another's personal data — did not matter greatly to the Weinsteins," Meade notes. Nicknamed "Pep" by friends at school as an ironic moniker that highlighted his general lassitude, Nat was kicked out of Tufts, but fudged another transcript — stealing one from another Nathan Weinstein– to get into Brown, where he eventually graduated.
Meade's portrait of West's wealthy upbringing and his solitary, dilatory habits is sharply drawn and proffers much new material. (Amazingly, the most recent biography of West is the now forty-year old Nathanael West: The Art of His Life by Jay Martin, and the standard biography remains Stanley Edgar Hyman's out-of-print Nathanael West from 1962.) Meade is even-handed in her treatment, but she is not enamored of her subject. Perhaps for good reason: West was a spoiled and entitled young man who altered the truth to get ahead. So too, perhaps, his name. When in Paris, he changed it to Nathanael (the "ae" had a nice ring to him) West (as in "Go West, Young Man," he told others). Later, he would make it seem he had lived a long time in France, when "[i]n fact, he was a lucky kid whose relatives underwrote a standard tour". Back in New York without a job, West thought it odd that "[N]o one offered to hire him because he had graduated from Brown. In fact, he didn't waste his time looking for work. Fortunately, he had a well-off father."
When Max's fortunes fell, though, Nat had to find work, and he became a manager at the Sutton Hotel. In his spare time, he started writing, over and over, tortuously, the sparse novel that would be his best success while he was alive, Miss Lonelyhearts, published in 1933. While continuing to work at the Sutton, he bought a farm in Bucks County, Pennsylvania and became close friends with his neighbor, the novelist Josephine Herbst. Perenially short on paying work, West decided to try to weather the Depression in Hollywood, which had already seduced other writers such as F. Scott Fitzgerald and his old friend, S.J. Perelman, who had married West's sister, Laura. The film industry did not, however, provide easy pickings. West struggled for years until he finally made a modest wage working for a B-movie studio.
West, who frequented brothels from adolescence on (and suffered bouts of venereal disease), had only two, fairly short, romantic partnerships, and, as Meade repeatedly points out, included homoerotic themes in all his writings. In 1939, the year his masterpiece, The Day of the Locust was published to mediocre reviews, he met and quickly married Eileen McKenney. An infamously poor driver, West got into a car accident on December 22, 1940, while driving with McKenney, in Mexico. Both were killed. West was thirty-seven, and McKenney twenty-seven.
When news of their deaths spread, it was McKenney who garnered headlines. She was already something of a celebrity, for reasons utterly unrelated to her husband's eventual renown. Born in Cleveland, McKenney was dubbed by her family "the pretty one", in contrast to her sister Ruth, the smart one. Ruth became a journalist, and the two moved to New York City, where Ruth started publishing sketches in The New Yorker. After Eileen's first marriage, which bore a son, ended in divorce, Eileen moved in with her sister, who supported them all. Ruth compiled her New Yorker sketches into a breezy book called My Sister Eileen. It became a best-seller and spawned plays and musicals (Leonard Bernstein's Wonderful Town is based on it). By the time Eileen met West, she was a household name. But she was also broke. She moved to Hollywood and became a secretary at Disney.
Despite the inherent fascinations of both of her subjects' lives, Meade, the author of numerous other biographies, including Bobbed Hair and Bathtub Gin: Writers Running Wild in the Twenties, makes more of the McKenney/West "screwball world" than there is. West and McKenney do not meet until the 270th page of this 314 page book. The sense that one is waiting for something — for the lonelyhearts to meet — tries the reader's patience, and the energy and fullness of the book, contrasted with the lack of clear purpose, makes it feel crowded. Which is a shame, because Meade is a great biographer, and she includes sharp sketches of Lillian Hellmann, Dorothy Parker, Bennett Cerf and Katharine White and others in addition to the three major players. Ruth McKenney, a trailblazer among female journalists, whose Communist politics led her to write a book about a rubber strike in Ohio and who eventually became an expatriate, deserves a biography of her own.
Ultimately, the book is about West, and one wishes Meade might have included more discussion of his literary work, and engaged more directly with his major novels. West's home-grown surrealism and fragmented, in-the-outskirts observational acumen make The Day of the Locust the best book about Hollywood yet. But it is no small accomplishment that Lonelyhearts gives us a better understanding of West and his unique voice — regardless of his place in the line of authors admitted into the Library of America.