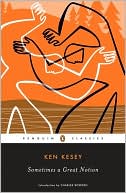 Ken Kesey was born on this day in 1935. For some of those attempting to bring biographical order to Kesey's chaotic life, his decision after six years to give up fiction, for the thirty-six years of whatever came after it, is a literary tragedy. In his introduction to the 2006 Penguin edition, Charles Bowden declares Sometimes a Great Notion "one of the few essential books written by an American in the last half century"; he goes on to lament that Kesey became "the hero of a tie-dye generation" and then just "famous for being famous…a footnote to an era." Mark Christensen's Acid Christ (2010) takes a similar view. As a student, Christensen had marveled at the manuscript versions of Sometimes a Great Notion; when he met Kesey in person in the mid-seventies, "he seemed about as literary as Bronco Nagurski":
[H]e had the unassuming hyper-gregarious, kick-ass style of a frat boy turned hippie farmer turned high school football coach turned psychedelic Chevie salesman (he was promoting his Poetic Hoo-Haw arts festival at the time), an aw-shucks demi-god who did day labor during the height of his fame, or at least claimed to. By then, living-in-the-NOW Kesey had abandoned the novel, tired of the novelist's chore as stagehand, having to supply the sun, moon, stars, chairs, tables, sofas, guns, Kleenex, fried chicken and femme fatales essential to the paper illusion, deciding: why not just, with a movie camera, be the story yourself?
Others who knew Kesey underline the idea that the novelist was killed off by the Merry Prankster, or by those who would not let him get off the bus. The following is excerpted from Jeff Forester's online description of Kesey's funeral:
Pranksters built Kesey's coffin of clear pine and dipped it like a video box in swirling neon. The hour of the funeral, a beam of light broke through the clouds and shone down, igniting the crazy Day-Glo Kesey had spread about the farm, bringing his coffin alive with color. People spoke of Kesey's generosity, his kindness, his bravery, his genius, his friendship. Catholics anointed him, Buddhists chanted, Jews said Kaddish, a Christian blessed him, an American Indian called his soul home from the four directions. We formed a line, touching him, tucking talismans, crystals, beads, ribbons, flowers, buds, a wooden flute, into the coffin or his pockets.… The hands jutted stiffly from his black shirt and seemed to hover just off his thighs, the head tilted back upon a small pillow unnaturally and a red Grateful Dead "Steal Your Face" beret perched on his head..
---
Daybook is contributed by Steve King, who teaches in the English Department of Memorial University in St. John's, Newfoundland. His literary daybook began as a radio series syndicated nationally in Canada. He can be found online at todayinliterature.com.