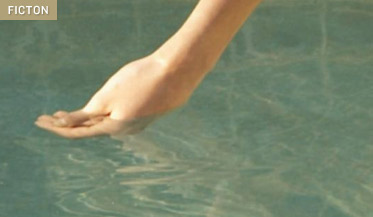 Lara, the 17-year-old protagonist of Esther Freud's sixth novel, is named after the heroine of Pasternak's Dr. Zhivago. But the literary work that most immediately comes to mind while reading Love Falls is Fitzgerald's Tender Is the Night. Not since that novel — one of my all-time favorites — have I read another that so convincingly evokes summertime as a tangible physical and psychological space where unlikely strangers mix promiscuously in unlikely places, where the participants themselves know so fully they are living in a golden time they are nostalgic for their current lives in the present tense.

Freud's novel is, if anything, wiser than Fitzgerald's, and certainly she has more faith that her characters will have more golden times past the end of the novel (we don't envision anyone riding off into alcoholic oblivion and crushed dreams ? la Dick Diver). But her cast of lords, ladies, film stars, and mere mortals summering in Tuscany in 1981 so closely resembles the same sorts that Fitzgerald plunked down on the French Riviera nearly a half century before that the comparison seems inevitable.

Lara, the mere mortal, is invited to Italy by her semi-estranged father, Lambert Gold (n? Wolfgang Goldstein), who publishes widely (his attention to his work, a history of Britain in the 20th century, has precluded him from doing much parenting) and lives modestly. Her life with her nomadic mother, Cathy — who raised her in a Tibetan center in Scotland, then took her on the Budget Bus to India in search of enlightenment, much as the single mother in Freud's semi-autobiographical first novel, Hideous Kinky schlepped her two daughters around Morocco — has left her well traveled but unaccustomed to a life in which dinners are prepared by the cook, a person with whom those of the house must not get too friendly. While her father works on his magnum opus and Caroline, their brittle, glamorous host, nurses a mysterious illness, Lara takes shelter gossiping in the kitchen with Ginny, the cook, who becomes her summer confidante.

The lords are the Willoughbys, who live up the road in a compound that once housed countless families. Andrew, the patriarch, leaves his wife in London each year while he summers with their passel of teenage children and his longtime mistress, Pamela, known to the children as "the big P." The film star is his mistress's daughter, Lulu, a blonde with skin so bronzed "it looked like she had sat with a copper plate in her lap to reflect the sun." Lulu is smitten with Andrew's only son, 18-year-old Kip, who, at the age of 7, was named the new Lord Montague by his grandfather, displacing his feckless, free-spending, skirt-chasing father.

Much to her surprise, Lara is smitten with Kip as well, though her attraction to him is not for the most obvious reasons. Lara is the kind of girl who sees the summer's main pop culture event, the marriage between Prince Charles and Diana Spencer, as more tragedy than fairy tale; when told by Ginny that the rich and attractive Kip is "the most eligible bachelor in town," she becomes "irritable" and realizes she had hoped "Kip's beauty might only be visible to her."

The entire Willoughby clan takes a shine to the bohemian Lara as well, dubbing her the Attractive Young Communist (after she lets it slip that she wants to grow up to teach adult literacy classes like her mother). Soon she is clattering around Italian clubs and cafes, underdressed in jeans, T-shirts, and high-heeled sandals, with Kip and his sister May, her fianc?, Piers, and Roland, whose aggressive flirtations become somewhat menacing, given that he is married to Kip's very pregnant sister, Tabitha.

Setting a novel in such an idyllic place and populating it with such gorgeous characters puts it in real danger of coasting on atmosphere alone. Freud most emphatically does not coast. Nor does she turn the story into an easy tale of the ordinary virtue of the working folk trumping the decadence of the idle rich. The casual snobbery of the gilded life is there, but it never overwhelms the story into caricature or class polemic. Instead, she allows glamour to coexist with fully realized characters experiencing true emotions and never insulates them from real-life consequences.

One of the reasons the novel works so well is the care Freud has taken with constructing Lara herself. This summer, for Lara, is about two romances: her sexual and emotional awakening with Kip, and building an adult relationship with a father who did not share her childhood. During a game of Truth, both her father and her future lover claim they have never fallen in love. Lara, on the other hand, thinks, "Of course she'd been in love. Her whole life had been lived out in degrees of adoration. What else was there to do?"

Lara's emotional confidence, one senses, comes from having been a well-loved child. Although her mother inhabits the novel only in flashback, Lara's affection and admiration for her is palpable. Lambert had never wanted to have children, but Cathy assures her daughter that this in itself makes her "special"; she has taught him to love anyway. As for Cathy, who bore Lara at 19, in the full knowledge that the then 41-year-old father would never be much help, Lara thinks "her mother proved just by having her that she was free and reckless and fierce."

Midway through the novel, Freud introduces three potentially groan-inducing plot twists, none of which would be fair to reveal here, and all of which would give her great-grandfather Sigmund plenty to discuss (her father is the painter Lucian Freud). Although they add suspense, I was worried that they might derail the narrative into melodrama. It is to Freud's credit that this does not happen. One of the three is more or less resolved, in a quiet way that reveals Lara's capacity to accept difficult truths. The other two are left dangling — the consequences may or may not come back to haunt Lara in her life outside the boundaries of the novel, though both will certainly shape her thinking about how best to live it. By the end of the novel, however, we have such a sure sense of Lara's character that we can imagine she has the strength to deal gracefully with whatever comes next.