Love Rocks is a biweekly look at new self-published romance titles from the community of writers at Rock*ItReads.

I grew up in a small town with Colonial and Victorian era houses and big trees shading the quiet streets. It was almost picture-perfect, with steepled churches and a town library modelled on a miniature Monticello. But underneath that near-immaculate exterior lurked…well, nothing very sinister. No Stephen King monsters or cults of Stepford Wives. It was and still is a pretty nice place to live; neighbors look out for neighbors and residents actually care enough about the place to show up to town hall meetings.
That sort of lifestyle is the basis for small town contemporary romance. For many readers, the notion of life in a peaceful, unhurried setting, where neighbor knows neighbor, holds enormous appeal. In fact, small town romance is so dominant these days that it seems difficult to find contemporary romances with a big city setting.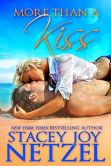 More Than a Kissby Stacey Joy Netzel starts with a kiss, one that comes with strings attached—to a handsome and rich LA entrepreneur.
Sadie Barton and her younger sister flee small town Wisconsin for the bright lights and opportunity of Los Angeles. For Sadie, small town life was hardly idyllic. Her mother was an unwed teenager, a blond beauty who eventually married a rich man thirty years her senior. After years of malicious gossip and digs that she'd no doubt follow in her mother's gold-digging footsteps, Sadie is determined to make it on her own as a journalist.
When her actress sister falls ill, an unpaid rent bill forces Sadie to fill in for her in a TV spot—one which involves kissing handsome Zach Robinson, a self-made millionaire appearing in his company's commercial. The chemistry between them is immediate, electric, and surprisingly sweet. When Sadie's employer, a barely respectable newspaper called Life's a Beach, assigns her to interview Zach, she's both thrilled and embarrassed to see him again. Zach is just plain thrilled, but he also asks Sadie not to write about the commercial and his role in it, concerned it will cast his company in a bad light. Because she's an honorable person, Sadie complies.
The upshot? She loses her job and her ability to support herself and her sister. Sadie meets Zach's subsequent offers to pay her bills with anger and distrust, since they trigger ugly memories of the small town gossip of her childhood. In Sadie's world, allowing a rich man to solve her problems means nothing less than following in her mother's footsteps. It's up to Zach to break through her emotional armor and convince Sadie that he genuinely loves her and accepts her for who she is.
More Than a Kiss is not your typical Cinderella story. Sadie has rejected her wealthy background to deliberately choose a life of financial struggle in order to gain her emotional independence. In a nice reversal of small town romance tropes, she finds true acceptance and love in a place known more for superficial glitter and glitz than for loyalty and honor. Netzel's story is sweetly heartfelt, the characters well developed and engaging, and the setting different enough to nudge a reader out of her small town rut.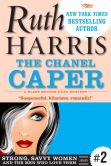 The Chanel Caper by Ruth Harris is as far from small town romance as a reader could get. Set primarily in the world of fashion and advertising in New York City, it features a fifty-six year old heroine who is smart, sardonic, and whose marriage to her sexy, ex-cop husband has hit a rough patch. Blake Weston makes for a fabulous heroine, watching in some bemusement as her husband Ralph, now head of security for a large international corporation, goes into mid-life crisis. For Ralph, this involves extreme workouts in an effort to recapture his youthful vigor, a new wardrobe, and a flirtation with a bombshell war correspondent doing everything she can to get Ralph between the sheets. Blake, naturally, has no intention of allowing her beloved husband of twenty-five years to slip away from her.
In an ongoing effort to upmarket her own outdated style and rekindle some romance in her marriage, Blake buys a faux Chanel handbag from a street vendor. This sets off a chain of wild events that includes murder, explosions, counterfeit drug rings, and the pursuit of suspects and warlords from Shanghai to Afghanistan. The Chanel Caper is a romantic comedy, a thriller, and a send-up of the big city lifestyle in the wake of the global financial crisis. All the disparate elements of this very funny story are tethered by the engaging Blake, a smart, sensible, and dryly witty heroine intent on saving her marriage. It's definitely a romance for the grownups, set against the backdrop of the bright lights of the city that never sleeps.
To sign in and make a comment, click on the Sign In or Registerlink in the upper right-hand corner of the page, then come back to this page to leave a comment below.


---

Vanessa Kelly writes award-winning historical romance and also USA Today Bestselling contemporary romance, written with her husband under the pen name of V.K. Sykes. Her latest book, Play Hard, is an anthology of sports romances with Rock*It Reads authors Juliana Stone and Jennifer Lyon. You can find Vanessa at www.vanessakellyauthor.com or www.vksykes.com.