Love Rocks is a biweekly look at new self-published romance titles from the community of writers at Rock*ItReads.

I knew from the first couple of pages that
Shades of Honor
by Wendy Lindstrom was going to be a book I could sink my teeth into. It's 1870, and the hero, Ranford Grayson, has just returned home to a small town in New York with his shy, damaged four year-old daughter. Little Rebecca's mother is very plausibly out of the picture, and the child's caregivers have been less than ideal – the first one, a beloved nanny, abandoned her to start her own family, and the second was an abuser. Ranford goes home to his mother and three younger brothers, knowing it will be best for Rebecca.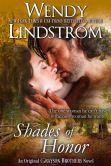 But Ranford is not without his own inner demons. His experiences as a Union soldier in the Civil War have left him broken and suffering. We would call it post-traumatic stress disorder, but his 19th century family doesn't understand it. Making matters worse, his brother, Kyle, has been running the sawmill that was to have been primarily Ranford's, but shared by all four brothers. Kyle – who had other plans when Ranford joined the army – stayed and put his heart and soul into the mill, and he resents Ranford's time away. Of course he has no interest in sharing his hard-wrought business with his long-absent brother.
Ranford understands this, and does not object when Kyle sends him to work in William Tucker's livery. William is an old family friend who is ailing. It is his smart and resourceful daughter, Evelyn, who struggling to keep the livery afloat alone as well as take care of her father. She is also Kyle's fiancée, but as she gains Rebecca's trust and Ranford's love, she realizes what is missing in her relationship with Kyle. Ranford's homecoming creates a maelstrom of issues everyone must find a way to overcome.
Lindstrom writes a richly woven story that puts the reader right into the setting, with all the sights and sounds and smells of a post Civil War town. The conflicts are well-drawn and entirely believable, which makes
Shades of Honor
a tale well-worth reading. I look forward to reading the other Grayson brothers' stories.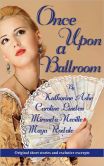 The anthology
Once Upon a Ballroom – Original Short Stories
by Caroline Linden, Katharine Ashe, Maya Rodale, and Miranda Neville is a delightful Regency read. The turning point of each of the four stories takes place in a ballroom, all in very different ways. Caroline Linden's centers on a wife's trust in a husband who is all too likely to be unfaithful. Katharine Ashe writes of a young man with a dark past who must rescue the object of his desire, a young lady who – knowing what she knows about him – should not want him. Maya Rodale relates the tale of a lady columnist who suffers unrequited love and is willing to risk everything to make it requited. Last but not least is Miranda Neville's clever story of a couple of bibliophiles who have known each other for years, but only come together when they meet at a masquerade, in costumes neither one expects to see on the other.
The stories in
Once Upon a Ballroom
are short, poignant and completely fulfilling with lovely happily-ever-afters. And as an added bonus, there are long excerpts from each of these authors' recent books. They're perfect readings for getting a taste of some very excellent authors you might have missed.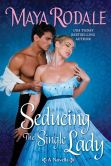 Maya Rodale's
Seducing the Single Lady
is a parody of Beyonce's song
All the Single Ladies
. This is also a short read (although not as short as the stories in the Ballroom anthology) and is quite the Regency romp. It is the story of Susannah Grey, a young heiress whose father made a pact with a neighboring viscount that she would marry his son when they came of age. The son, Damien, spends years away, sowing his wild oats, while Susannah is orphaned and placed in the care of her abusive relatives. Damien does not answer any of her letters while he lives the high life abroad, doing whatever he pleases. At least, not until there is an incident that causes all of society to believe him dead, and makes Damien reevaluate everything.
He returns home, aware that his [now deceased] father believed his son was a disgrace. He cannot change his father's opinion, but he decides he will follow the old viscount's wishes and wed Susannah. Remembering the unattractive little "Christmas ham" of his childhood, he does not doubt he can win her and marry her within the month – and he wagers on it. But he discovers that Susannah is not at all the "scrappy brat" he was obliged to marry. She is all grown up, and imminently desirable.
It will not be so easy for Damien to whisk Susannah off to their nuptials, for she is free – truly free – for the first time in her life. And she has no intention of turning over her freedom, especially to the boy who was so callous during their childhood. Still, Damien wants her, and realizes he will have to woo her in order to win her. He understands it's her freedom that he has to respect and court. And he does just that.
To sign in and make a comment, click on the Sign In or Register link in the upper right-hand corner of the page, then come back to this page to leave a comment below.


---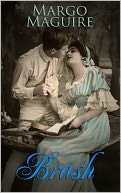 Margo Maguire practiced critical care nursing for a lot of years before turning to writing. To date, she has published 20 sensual historicals and four novellas, translated into seventeen different languages. Some have been adapted as manga books. Her novella Brash is self-published. For more information, visit her website http://www.margomaguire.com/