Love Rocks is a biweekly look at new self-published romance titles from the community of writers at Rock*ItReads.
Folks, we're halfway through February and if you're like me, the shiny and bright promise of a new year is already a little bit tarnished and we're dug in, doing what we do, moving forward into 2013. Working. Playing. Taking care of the kids, family… taking care of ourselves.
For me this new year was all about my writing and making time for things that I enjoy, like reading. And what have I been reading lately? A whole lot of a newish romance sub-genre, something labeled 'new adult'. Which, to me, are stories revolving around the grey area—you know, the one between teenagers and adults. That block of time meant for experimenting, finding yourself, making life-long connections. A time where responsibilities are slowly beginning to pile up, but not so much that you can't have fun.
I love this genre and today I'm going to share a few books I've read over that last month or so that, for various reasons, I enjoyed a lot.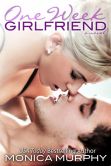 First up: One Week Girlfriend, by Monica Murphy.
Temporary. That one single word best describes my life these last few years. I'm working at a temporary job until I can finally break free. I'm my little brother's temporary mother since our mom doesn't give a crap about either of us. And I'm that temporary girl all the guys want to get with because I give it up so easily. According to the rumors, at least.

But now I'm the temporary girlfriend of Drew Callahan, college football legend and all around golden guy. He's beautiful, sweet—and he's hiding way more secrets than I am. He's brought me into this fake life where everyone seems to hate me. And everyone seems to want something from him. The only thing he seems to want though is…

Me.

I don't know what to believe anymore. All I know is, I think Drew needs me. And I want to be there for him.
I enjoyed this one. The writing was smooth, the voice good for the age of the characters. The heroine, Fable (yes, that's her name) is your typical girl from the wrong side of the tracks. Her mother is anything but a mother, and she's had to give up her college dreams in order to work and help out with expenses, because she has a younger brother that she loves a lot and he needs her.
She's got a bad reputation of the loose and easy kind, and it's because of this bad rep that the hero Drew asks her to pose as his 'pretend girlfriend' for a week. I wasn't sure I got this part, not even after the reasons for him choosing her were explained, but it didn't detract from their love story.
This is a book of opposites attract. A book about a girl who is willing to give herself to a guy, who as the story unfolds, holds some pretty dark secrets. This wasn't a fluffy read which I think the cover conveys a bit and I was surprised at the depth of emotion the author was able to achieve. These are some pretty heavy things that Drew deals with. I'll warn you, this is a 'to be continued book' but because it drew me in, I am definitely on board for book #2. As with a lot of new adult, these books are recommended for readers over the age of 17. There are sexual situations, alcohol and language. Very real to the age group.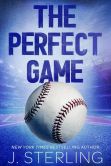 The Perfect Game, by J. Sterling.
He's a game she never intended to play.

And she's the game changer he never knew he needed.

The Perfect Game tells the story of college juniors, Cassie Andrews & Jack Carter. When Cassie meets rising baseball hopeful Jack, she is determined to steer clear of him and his typical cocky attitude. But Jack has other things on his mind… like getting Cassie to give him the time of day.

They're both damaged, filled with mistrust and guarded before they find one another (and themselves) in this emotional journey about love and forgiveness. Strap yourselves for a ride that will not only break your heart, but put it back together.

Sometimes life gets ugly before it gets beautiful…
This book was one I really enjoyed. I'm a sports nut and love hockey and baseball, so reading about Jack Carter (I kept picturing Taylor Kitsch in that movie John Carter, yum) and his quest to make it to "the show" was a lot of fun. Cassie is his equal. She's smart, damaged (like him) and strong. I loved the interaction between them. I loved that the book showed their flaws and as their story unfolded, Jack made some serious mistakes but he didn't shy away from them.
Their connection was deep and I was rooting for them, and yes, their first sexual encounter was sweet and hot and well done. I've read that there will be a continuation of their story, but this book left me totally satisfied and though I'm looking forward to more of Cassie and Jack. I don't feel cheated, as if their ending was rushed.
I'm always on the lookout for great 'new adult' books so if anyone can leave recommendations in the comment section, I would love that!
To sign in and make a comment, click on the Sign In or Register link in the upper right-hand corner of the page, then come back to this page to leave a comment below.
---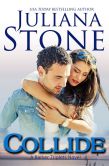 Juliana Stone's love of the written word – and 80′s rock – have inspired her in more ways than one. She writes both paranormal romance as well as contemporary romance, and will debut her Young Adult contemporary novel in 2014. She spends her days navigating a busy life that includes a husband, kids, a dog, and a cat, while living somewhere in the wilds of Canada. Her latest release, Collide, the second book in her Barker Triplets Series, was released in January.