Love Rocks is a biweekly look at new self-published romance titles from the community of writers at Rock*ItReads
If you're like me, you're probably scratching your headwondering how on earth we find ourselves with only days until Christmas. And if you're also like me, you're probably scrambling for those last minute presents or the stocking stuffers. Hopefully, you're not. Hopefully you're all much more organized than I am and have some time to do things like….READ!
I've got a few holiday themed books to recommend, and one that isn't a holiday book but it's so awesome I wanted you all to be aware of it!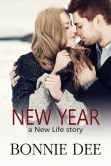 First up we have New Year by Bonnie Dee. When I wrote my last column I'd read and recommended her book New Life, a book I enjoyed so much because it was very different from any I'd read before. If you remember, Anna was a lawyer in need of something, and Jason was the janitor that worked in her office building. He had some issues stemming from a brain injury and watching them fall in love was wonderful.
New Year is a continuation of Anna and Jason's story. It shows how they've grown as a couple and this novella takes place over a Christmas visit to Anna's parents. I loved it. But then, I love catching up with characters that I've already fallen in love it. If you read their first book, you have to read this one!
Tension and family holidays go together like eggnog and candy canes.
When lawyer Anna brings her boyfriend Jason home for the holidays, it's a recipe for family drama. Her parents have high expectations for her fast-track future. And those don't include her hooking up with a kennel worker suffering the results of traumatic brain injury.
With a lousy memory and a shaky past, Jason knows he's no prize. But what he and Anna have together is priceless. An impulsive proposal on the way to her family's house seems the best way to prove his feelings for her are forever. Anna's hesitation to accept stops his heart. And when she seems willing to use him to get back at her manipulative mom, Jason wonders if he's made the mistake of his life.
Exposed to the light of critical eyes, Jason and Anna's fairy-tale romance threatens to crumble. The hurdles of their pasts may prove too much for this princess and her pauper. And this new year may ring in bright beginnings – or the end of all their hopes and dreams.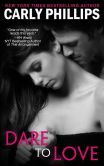 Dare to Love by Carly Phillips.
What can I say? I loved this book. Carly is a New York Times bestselling author and this is her first indie published book. It's a great book that's both hot and tender and did I say hot? With this, her first book in the Dare Family series, you will find everything you've come to love in contemporary romance! Ian and Riley are both dealing with their own personal demons, which makes them coming together all the more satisfying! Full of wonderful secondary characters, a spunky heroine and a hero oozing sex appeal, Dare To Love will surely heat up your holiday!
Since finding out his father had another family on the side, Ian Dare swore to be the upstanding, responsible man his cheating parent had never been. When it comes to his relatives, he gives his all but in relationships he offers the bare minimum. But one glimpse of sensual Riley Taylor arouses his dominant and protective instincts and Ian is entranced. He will do anything to possess her … and does. But any future with Riley must include him extending an olive branch to the half-brother who is a constant reminder of the pain he'd rather forget.
Independent and always in control, Riley Taylor makes no apologies for choosing men carefully. Relationships have never been a priority and she believes herself hardened to domineering men – until she meets charismatic Ian Dare. He manages to turn a simple kiss into an all out assault on her senses and when he takes control in the bedroom, she's stunned to discover she likes it. As their affair heats up, they soon realize they complete each other in ways neither imagined. But Riley's past is closer than she cares to remember, and her struggles with Ian's dominance might just cost her everything.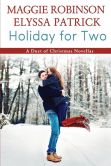 The last book is a two in one! That is two great Christmas novellas for the awesome price of 99 cents! And what a treat! Holiday for Two by Maggie Robinson and Elyssa Patrick has something for everyone.
Some of you might know Maggie Robinson as a historical author ( a hot, hot, hot, historical author!) All Through The Night is her first foray into the contemporary world! The book was a delight! A cute story about two people from completely different worlds, stuck together for one night. I loved how Griffin and Carrie slowly got to know each other and if you're already a fan of Maggie's this is a book you need to read!
While It Was Snowing by Elyssa Patrick will have you laughing out loud. Seriously. All I will say is –whipped cream???? This is another snowbound scenario, and it features one of my favorite romance tropes. Friends to lovers. I think you'll be rooting for Felicity and Harry—I know I was! And really, isn't Christmas the best time to root for love?
So there you have it! A few books I enjoyed and if you have the time over the holidays I hope you try a few of them as well! I hope that 2013 was everything you hoped it would be, and if not? Well, let's just make 2014 the best one ever!!!
To sign in and make a comment, click on the Sign In or Register link in the upper right-hand corner of the page, then come back to this page to leave a comment below.
---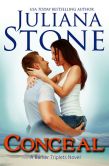 Juliana Stone's love of the written word – and 80's rock – have inspired her in more ways than one. She writes both paranormal romance as well as contemporary romance, and will debut her Young Adult contemporary novel in 2014. She spends her days navigating a busy life that includes a husband, kids, a dog, and a cat, while living somewhere in the wilds of Canada. Her latest release,
Coneal
is the third book in the Barker Triplets series.