Love Rocks is a biweekly look at new self-published romance titles from the community of writers at Rock*ItReads.

The first pages of Norah Wilson's Guarding Susannah grabbed me so quickly, I did not want to put the book down. It's a courtroom scene, and it establishes how sharp the heroine (Susannah) is as well as what the conflict is going to be. The hero, also present in the courtroom, is a cop. Susannah is a criminal defense attorney and she is easily, cleverly shredding the evidence put forth by the prosecution.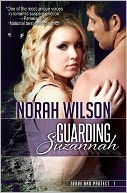 The book is set in New Brunswick, Canada, an unusual setting for a romance novel, to be sure. The defendant in the case is a First Nations individual, Susannah questions the constable who arrested him, and after she's finished in Provincial court, she removes her black robes and leaves the Queen's Bench courtrooms. Well, not really. The Queen's Bench court is upstairs, but the tone is set – this is going to be a bit different from the usual romantic suspense novel.
This is basically a "woman in jeopardy" story, although there's a subtle attitude shift in the tone of the book. Perhaps because it's Canadian, perhaps it's just the writer's voice. Either way, I found it totally refreshing. The dialogue is quick and witty, the characters are believable, the plot is strong and the story progresses logically, without having the characters make a bunch of silly mistakes that drive the story.
Susannah is a rich girl, the daughter of a deceased Chief Justice. The guys at the police station call her the Ice Princess. Or She-Rex. Clearly, they don't like her. That's ok with Susannah – she feels she has to maintain a distance from them in order to be effective in the courtroom. In fact, she needs to be a little bit intimidating. All of which plays into her reason for not contacting the police about a possible stalker. John Quigley, the detective who finds himself in love with her, gets it. He figures a way to work around it, but his workaround creates a smoldering sexual tension. The sex flows naturally from their increasing intimacy, and Wilson writes it hot and with humor.
The conflicts Wilson set up ring true, with nothing overblown. The characters have natural, normal reactions to every situation that arises. The characters are likable: Quigley, who is a big strong guy with a vulnerable streak that makes him human, and Susannah, who is always in control, and yet the escalating situation creates a chaos she cannot handle. It all comes together to make a fully satisfying read.
I also enjoyed Needing Nita, by Norah Wilson. The premise of this novella is that when Nita – another New Brunswick lawyer – receives what turns out to be a mistaken diagnosis of a brain tumor, she decides to live out her fantasy with a totally hot cop, Craig Walker. I was a little afraid this plot would turn me off because – well, come on. Mistakes like this are exceedingly rare. But it worked because the author did not drag out the misunderstanding. It was resolved before it became unbelievable and interfered with the story. By that point, Nita and Craig were already in too deep to backtrack. Needing Nita is short, but it's completely engaging and extremely hot. This author is consistent!
The Betrayal by Kathryn Shay is another worthwhile read, and slightly off the beaten track. The first quarter or so of the book centers on Darcy Weston, a fifteen year-old runaway, and 12 year-old Jordan Mackenzie, the young boy who helps her hide out at an abandoned farmhouse. It was unusual to find such a long stretch of childhood covered in a book, but those chapters were not just filler. It was important for the author to show the way the two kids bonded and how the interests they had as children became their creative passions as adults. And the reader needed to understand how devastating it was for both of them when their friendship crumbled.
But back to the story. Jordan is smitten from the first. Darcy arrives during a school holiday, so he can spend all his time with her without his widowed mom finding out. His best friend, Tommy, feels abandoned, and their friendship subsequently suffers because of Jordan's bond with Darcy. Jordan brings food and water to her, and they spend their time talking. Sometimes, he would write in his journal while she drew pictures. Eventually, she tells him that she ran away because her stepfather raped her, and her socialite mother did not believe her. You can't help rooting for these kids as they strive to keep the Darcy from being found by the authorities.
Both kids are smart. They know how to get around the system and keep Darcy hidden. But the subterfuge cannot not last forever. Eventually Darcy is discovered, and ends up staying with Jordan and his mom for a few days, bonding even more closely with Jordan, and his mom, too. But then Darcy's mother locates her and sends for her. She has no choice but to return home, but at this point the stepdad is out of the picture. The home situation is safe, if not ideal. The years pass, and Darcy puts the rape and her horrible ex-stepfather behind her. She does not expect Jordan to expose her past to the world.
The betrayal comes twelve years later, a long time after the friendship has fallen apart. Jordan is a teacher and aspiring author, and Darcy has become a successful but reclusive artist. Darcy guards her privacy with a vengeance, and no one knows she is Darcy Weston, nobody knows she was raped, not even her best friend/assistant. But she is a wounded soul – never having dealt with the rape or her own mother's betrayal.
In the meantime, Stella has developed liver cancer, and Jordan can't afford the experimental treatments that could save her life. His only option is to try to sell the book he wrote about his experience with Darcy as a child, based on the journal he kept all those years ago. He finds a publisher who is thrilled to get it, but only if he can capitalize on Darcy's fame as a mysterious recluse. Jordan is torn. He knows what this will do to Darcy, but has no choice if he wants the chance to save Stella. The book's connection to Darcy is what will make it sell.
There is more than one betrayal in this story, and each one is strongly motivated and makes sense within the context of the plot and characters. The chemistry between Jordan and Darcy explodes when they meet as adults, but his book exposes her secrets, which is just the beginning of the betrayals. It's also the trigger of a violent sequence of events that will make them or break them in the end. The Betrayal has a number of compelling secondary characters, and possible villains that will keep you guessing until the end. Readers of romantic suspense will love this book.
To sign in and make a comment, click on the Sign In or Register link in the upper right-hand corner of the page, then come back to this page to leave a comment below.


---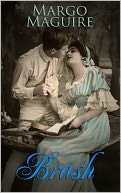 Margo Maguire practiced critical care nursing for a lot of years before turning to writing. To date, she has published 20 sensual historicals and four novellas, translated into seventeen different languages. Some have been adapted as manga books. Her novella Brash is self-published. For more information, visit her website http://www.margomaguire.com/