Love Rocks is a biweekly look at new self-published romance titles from the community of writers at Rock*ItReads.
True story: I was assigned to sit next to my future husband in 10th grade Biology. He was tall, gangly, and acnified. He was a new kid that year, and I had been a new kid so many times growing up that I recognized the brand of misery immediately. Age fifteen was the year I'd decided to be cool, in spite of my industrial braces, complete with rubber bands. A back brace would soon follow. On that fateful first day of school, I sat down beside him and asked, "Can I see your schedge?" Short for schedule. Because I was cool. We just celebrated our eighteenth anniversary, and we still joke about "schedge".
In spite of all the emotional and physical excruciations of being fifteen, an undeniable spark flared between us, and it has held true through the many years we've been together.
Today I'm celebrating sparks, and I've got two book recommendations that readers should check out immediately. Both are mash-ups of a sort, and both spark all over the place.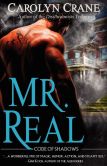 Mr. Real by Carolyn Crane is a lusty cocktail of humor, suspense, and witchcraft. Alix Gordon is an original, regardless of the raised eyebrows of her friends and family. She's spent her life playing the screw-up and has been doing an excellent job of it. She's also the kind of loyal and true friend many dream of having. And she's an expert in the field of fun, though occasionally her amusements get her in trouble—like once getting kicked out of martial arts class by the hot Paul Reinhardt. She and Paul had sparked, she was sure of it, but then she'd gone and screwed up again. She is her own worst enemy.
Paul is an MMA fighter. To pay for his training, he's taken some commercial/modeling jobs, the most lucrative of which is a series of TV ads featuring international super spy Sir Kendall Nicholas the Third, who battles megalomaniacal villains, romances the ladies, and drinks Denali—think peach schnapps. Denali is "always just the thing." But Sir Kendall is derived from a terrible time in Paul's life, which haunts him still. Paul is dazzled by the humor and unrestrained lust for life that Alix exudes. And he can identify the moment that they connected. But he's fought his way out of a dark childhood to become Puma Reinhardt, winning in the ring. He needs to be serious, no fun and games. No Alix.
One drunken night, in a tour de force of terrible judgment, Alix uses an occult computer program to bring Sir Kendall to life. The suave spy shows up on her doorstep, absolutely certain that Alix is an agent of the evil villain he's pursuing. He'll seduce key information out of her, kill her, and then enjoy a Denali, neat. At the same time, Paul is inexplicably drawn to Minnesota, only to be shocked to discover himself, as Sir Kendall, mid-liaison with the irrepressible Alix Gordon, the girl he let get away. Except Paul knows just how dark and dangerous Sir Kendall can be.
The story that ensues is equal parts hot, hilarious, and very sweet. Alix is relatable and human, which had me cheering for her when she finally grabs hold of what she wants. I love that the author throws convention to the wind and embraces the absurdity of the spy-to-life concept. I was laughing out loud through much of it, as well as smiling at the growing connection between Alix and Paul. The romance itself is spark-born, and I loved getting to see Alix through different eyes—the screw-up, a trashy girl, and best of all, as a fun, sexy, and brave magic maker.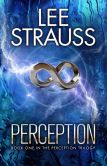 Perception by Lee Strauss is a YA dystopian romance for the older teen. The read was smart, suspenseful, and romantic; I was completely engaged by the multi-layered dynamics between the main characters. It's told primarily in the first person POV of seventeen-year-old Zoe Vanderveen, a genetically altered person (GAP), who has everything life can offer—wealth, beauty, and the prospects of an extended longevity. Her perfect world is turned upside down the day her brother disappears. Distrustful of authority, she embarks on her own investigation, though doing so will jeopardize the insulated, carefree existence she has always known. She turns for help to Noah Brody, a street-wise "natural" whose mother works for her family as a maid.
Noah bears the difficult family legacy of opposing the alteration of the human genome. His grandfather helped pioneer the technology, then vocally opposed it, and his father, a reverend, was assassinated during a rally. Noah, based in his father's run-down church, is trying to foment a new opposition. He's urban and tough, with a network of friends who support him. Occasionally he assists his ailing mother in cleaning the Vanderveen home, and there he meets Zoe. The last quarter of the book is told from his point of view.
The connection between Zoe and Noah sparks right away. Both are smart, active characters who engage in the mystery of Zoe's missing brother with an awareness of the financial, class, and philosophical differences that divide them. Nevertheless, the sparks are there, though any kind of relationship seems impossible. The danger deepens with each piece of information, but they press on, compelled for many reasons to discover the truth. As the suspense builds, so do the repercussions of their interference.
The tenacity and strong minds of Zoe and Noah had me responding to them right away. The action and pace keeps the pages turning—it's a fast and fun read. I particularly enjoyed the broad scope of the world building, which included social dynamics, climate change, advances in technology, and faith. But some things transcend place and circumstance, and the romantic relationship between Zoe and Noah does just that.
To sign in and make a comment, click on the Sign In or Register link in the upper right-hand corner of the page, then come back to this page to leave a comment below.
---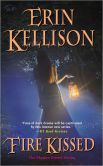 Erin Kellison writes contemporary dark fantasy romance for Kensington Zebra. Her latest release, Fire Kissed, begins her new Shadow Kissed series. Find out more about her world of magic and mayhem at www.erinkellison.com. And check out all of the latest releases from Rock*It Reads at www.rockitreads.com.