Love Rocks is a biweekly look at new self-published romance titles from the community at Rock*It Reads.

Opulent. Sumptuous. Savory. Luxuriant. Sounds like a rainforest.
It sounds like historical romance.

Like most readers, I read for different reasons. Sometimes unrelenting tension and high adventure, sometimes adventures of the home and heart. Fast-paced, edge-of-my-seat read, or a more leisurely story, where the significance of a single look is drawn out, building the tension: "Will he do it, now, here?"
But no matter how fast the pace or high the adventure, no matter how hot the passion or laugh-out-loud funny the humor, one of the great joys of fiction is being transported.. It's not just description or scene setting or staging that transport us to a lush story-world. Nope. It's being flown over its map by the author, then kicked out of the plane and dropped down into it.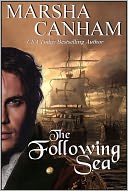 Historical romances are some of the most involving of them all, and one of the grande dames of historical romance is Marsha Canham. Her self-published title, The Following Sea is one such example.

Swashbuckling, sweeping, passionate, The Following Sea delivers all on all levels. From characterization to scene setting to world-building, Canham builds the story world, then deposits you right into the heart of it.
Hero Gabriel Dante is bruised, battered, and triumphant as he sails home in a captured Spanish galleon when he runs across a plague ship with the heroine on board. Eva is on a mission to locate on her shipping magnate father, who has been missing for years. And she has a very interesting silver coin, one that just might come from a lost treasure ship.
And with that, they're off a swashbuckling, rollicking adventure, full of seafaring and sunken treasure. The main characters are fully realized; you not only see them, you hear them, smell them, feel them. You are on board the ship. You feel the rope in your hands, hear the wind, taste the salt on your lips.
One of Canham's great strength is dialogue. She delivers character via dialogue better than almost anyone else. Even the secondary characters are given distinctive, strong voices, and she doesn't stint of the reality of the times. The scenes of battle and attack are vivid and sometimes shocking.
But amid this, Canham has a talent for wit that reveals character, such as when she describes the hero after sea battle: "Gabriel moved painfully across the deck…where the captain's quarters were located…[he] briefly debated abandoning all the crimson velvet and gold curlicues for simple wood and wool, but his legs had barely held up coming down the ladderway and he did not think it prudent to be seen crawling along the companionway on hands and knees."


From the medicines of the time ("Nog Kelly had concocted a noxious blend of camphor oil, boar lard, and island herbs, giving Eduardo orders to apply to Gabriel's back and shoulders every night, which made him smell like a lamp and frighten bugs away") to character's names like Stubs MacLeish and the vibrant accompanying descriptions ("short and stout, with a face that resembled crumpled canvas") the reader is shown an entirely new way to think about a sea-weathered face and, above all, is entertained.

Such convincing world-building can make it difficult when reading scenes of violence, but a joy when reading ones of passion.
My one caveat would be that this story does not have as strong a romance as some of Ms. Canham's others, but even with that, it's a superiorly strong example of lush historical romance, self-published or otherwise.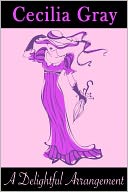 But just to prove I'm not talking solely about 'big' lushness and epic adventures, I offer you Cecilia Gray's A Delightful Arrangement. Ms. Gray builds a vibrant story world that immediately draws the reader in, and she does so by crafting incredibly engaging characters.
As with Canham, you're immediately inside the characters, feeling their emotions, seeing what they're seeing and, above all, rooting for them. And Ms. Gray does all this in a novella (four, in fact, which are part of her The Gentlemen Next Door series.) Crafting an immersive world in less than 100 pages? That's lush. Rich, flourishing, delectable. It's an entire story world, and you've just been dropped into it.
In A Delightful Arrangement, Francesca "Franny" is appalled that she will not be getting her first Season. She was ready to break free of the confines of her restrictive life, to dance and flirt and be made to swoon. When her father informs her that instead of having her Season, she will be wed, and to a long-time friend no less, she realizes all that is never to be.
Philip, on the other hand, has every intention of making Franny swoon. In fact, it's their bargain. But for Phillip, it's about much more.
Ms. Gray sucks you into her story with swift, deft descriptions of person and place that bring the characters alive, and she does so with humor, such as when the heroine Franny thinks, "Phillip bellowed with laughter, and Francesca noted for the first time his clean, white teeth made for a beautiful smile…. What was wrong with her? What was so charming about teeth, for goodness' sake?" You're smiling and you're rooting for Franny. And for the man who's not afraid to laugh unreservedly, and to love her.
Phillip cares for Franny, deeply. She amuses him, and enchants him, and after their first kiss, that attraction deepens to one of passion. He's easy-going, and willing to give Franny the time she needs, but this does not make him a simple character. He has layers that get revealed as the story goes on, such as his hatred for Franny's father the duke, which Ms. Gray reveals in simple, impactful ways. "…he was already gripped by a dark, foul mood that she could even breathe the notion that he and the duke were alike in any way."
As they argue about the terms of their agreement, and Franny makes it clear that she'll be being "fair' by giving all the other eligible men of London a fair chance to make her swoon, Phillip thinks, "As he watched her stalk away and felt that black mood spread through him like tar, he decided fairness was overrated."
With such deft descriptions, wonderful dialogue, and character-revealing humor, Ms. Gray has written a gorgeous novella that will enchant readers.
Both Gray and Canham are excellent examples of historical romances that take you deep into the worlds they create and make you care for the characters, so you're rooting for them and their Happily Ever After.
---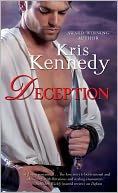 Kris Kennedy writes hot historical romance with lots of sexy drama. Her newest release Deception, received 4 1/2 stars from RT Book Reviews and a K.I.S.S. Award for hero Kier. Claiming Her, a scorching self-published novella set in Elizabethan Ireland, will be out late 2012. Find Kris at Facebook, Twitter, or her website for excerpts, updates, newsletter sign-up, or just to drop Kris a line.