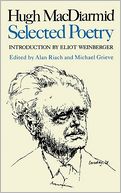 Hugh MacDiarmid (Christopher Grieve) published the first part of A Drunk Man Looks at the Thistle on this day in 1926. In total over 2,500 lines, the poem is regarded as his best, and the cornerstone of the twentieth-century Scottish literary renaissance. The need for cultural and political renewal was MacDiarmid's lifelong theme — one proclaimed too loudly, some said, garnering MacDiarmid's retort that it was not his business "to lay a tit's egg, but to explode like a volcano, emitting not only flame, but a lot of rubbish."

The poem has the same eruptive energy as the poet. It is written in the Lallans dialect — a hybrid of regional Scots and English grammar — and spoken from the mouth of a drunk who has collapsed on his way home from the pub. Having rolled down a hill and come to rest under a thistle bush, he gazes up at the moon and out over Scottish history and culture with a satiric eye. At this early moment, he says that Scotland might as well move beyond its Robbie Burns image, seeing what the world has made of the ploughman-poet:
No wan in fifty kens a wurd Burns wrote
But misapplied is aabody's property,
And gin there was his like alive the day
They's be the last a kennin haund to gie —

Croose London Scotties wi their braw shirt fronts
And aa their fancy freens rejoicin
That similah gatherings in Timbuctoo,
Bagdad — and Hell, nae doot — are voicing

Burns' sentiments o universal love,
In pidgin English or in wild-fowl Scots,
And toastin ane wha's nocht to them but an
Excuse for faitherin Genius wi their thochts.
Today is also the anniversary of the 1692 Glencoe Massacre, one of the most infamous events in Scottish-English history. MacDiarmid was a founding member of the Scottish National Party and a fierce (though unpredictable) advocate of independence. In After Britain: New Labour and the Return of Scotland (2000), Tom Nairn cites MacDiarmid's inspirational call for "an upswelling of the incalculable," the phrase coined in a 1931 essay that chides the SNP for timidity in its political battles with Britain:
[T]he curse of the National Party today — as of the English-controlled political parties — is its desire to foresee and guide the course of events. Nothing that can be so foreseen and guided is worth a curse; Scotland needs an upswelling of the incalculable.
---
Daybook is contributed by Steve King, who teaches in the English Department of Memorial University in St. John's, Newfoundland. His literary daybook began as a radio series syndicated nationally in Canada. He can be found online at todayinliterature.com.