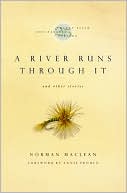 December 23: NormanMaclean was born on this day in 1902. Maclean's only book of fiction, A River Runs Through It and Other Stories,was written and published when Maclean was seventy-four, after he had retiredfrom teaching. In his forty-five years in the English Department at theUniversity of Chicago, Maclean won a prestigious Quantrell Award forundergraduate teaching three times. Asked the year after he retired to give atalk on his success as a teacher, Maclean responded with "This Quarter IAm Taking McKeon," in which he defines a great teacher as "a toughguy who cares deeply about something that is difficult to understand." Inelaboration, Maclean said that he was aware of learning only one thing aboutteaching, this imparted to him during his first year of work from a respectedsenior faculty member sent to inspect him, a severe and taciturn Scot namedMcCallum. Professor McCallum had nothing to say about teaching during or afterMaclean's class, or for several weeks following; eager to hear the wisdom"that, however harsh, would let me in on the secret to the mystery,"Maclean made an appointment to see him. When McCallum appeared indifferent toMaclean and the purpose of his visit, there seemed little choice but to ask:
"Don't youhave something to tell me that would help me be a good teacher?"

He thought for a while and then said, "Wear a differentsuit every day of the week." He had come from Princeton.

I said, "I can't afford that."

"Well, then," he said, "wear a differentnecktie."

I had been brought up to believe that you made the most inlife of what little you had, and, since this is all that has ever been told meabout teaching, I must confess that I wore a different necktie every day of theweek until I retired. I never did get up into the daily suit class.
References to his upbringing occur frequently in Maclean'swriting, most famously in the opening sentence of A River Runs Through It—"In our family there was no cleardistinction between fly fishing and religion." Known for his clear,precise prose style, Maclean says in one of his letters that his father, aScottish Presbyterian minister and also in charge of his sons' home schooling,"used to make me take a page of each paper I wrote for him and justifyevery word I had used."
---
Daybook is contributed by Steve King, who teaches in the English Department of Memorial University in St. John's, Newfoundland. His literary daybook began as a radio series syndicated nationally in Canada. He can be found online at todayinliterature.com.