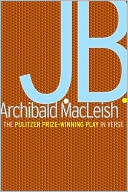 Archibald MacLeish's J. B. opened on this day in 1959, running on Broadway for a year, earning several Tonys and then a Pulitzer. In Macleish's reworking of the Book of Job, J. B. is made to lose all – wealth, children, reputation, world-view – in order that he might find true belief. In the end, having worked through anguish and given up on either intellectual understanding or religious faith, he finds what comfort he can in the arms and counsel of his wife:
You wanted justice, didn't you?

There isn't any. There's the world….

Cry for justice and the stars

Will stare until your eyes sting. Weep,

Enormous winds will thrash the water.

Cry in sleep for your lost children,

Snow will fall….

You wanted justice and there was none-

Only love.

On human love alone, J.B. must

henceforth pin his hopes:

Blow on the coal of the heart.

The candles in churches are out.

The lights have gone out in the sky.

Blow on the coal of the heart

And we'll see by and by….
That a hit could come from a verse drama based on the Book of Job surprised everyone, though MacLeish apparently took it in stride. He set his play in a circus tent, and biographer Scott Donaldson reports that when the poet-playwright got his fifteen minutes of fame on the NBC Today show, he was prepared:
<blockquote>
Under the circumstances, it did not bother him that he was preceded by Miss Florida and followed by a trained porpoise, nor that the network broke for a commercial just as he was trying to explain J. B.'s response to the Voice of God.
"I am enclosing a verse I wrote the other day. It started at 30,000 feet, and was finished soon after I landed."
John Gillespie Magee Jr. died on this day in 1941, one of the first American casualties after the U. S. entered WWII. The verse enclosed with his letter to his parents the previous September is the famous "High Flight," which Magee began to compose while test-flying a Spitfire V. Magee's parents were living in Washington D. C. at the time, and Archibald MacLeish was the Librarian of Congress there. MacLeish encountered the poem, included it in a "Faith and Freedom" exhibition in February, 1942, and "High Flight" soon had international popularity:
…Up, up the long, delirious burning blue
I've topped the wind-swept heights with easy grace
Where never lark, or ever eagle flew –
And, while with silent, lifting mind I've trod
The high untrespassed sanctity of space,
Put out my hand, and touched the face of God.