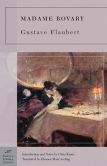 On this day in 1857, Gustave Flaubert's Madame Bovary was published. Flaubert's first novel established his reputation and introduced a new style of writing, but its immediate popularity was largely due to the recent, widely reported censorship trial. The novel had been serialized in the Revue de Paris through the winter, and its detailed portrait of "ignoble reality" had, as expected, landed everyone involved in court, charged with corrupting public morals. Flaubert's magazine editors had in fact forced through some of their own cuts and changes, but after five years on the book, working out a style "as rhythmical as verse and as precise as the language of science" — a labor, calculates one biographer, that proceeded at the rate of five words an hour — Flaubert had been as hostile to the magazine as he was to the courts: "If the bourgeois are exasperated by my novel, I don't care; if we are taken to criminal court, I don't care; if La Revue de Paris is suppressed, I don't care!" Though lectured for his bad taste and his "poetry of adultery," Flaubert was acquitted, and passages such as the one in which Emma and her lover take their famous cab ride were allowed to stand:
From time to time the driver would cast despairing glances at the taverns as he drove past. He could not for the life of him understand what mania for locomotion possessed these individuals that they inexorably refused to stop. He made as if to pull up once or twice, and, immediately, exclamations of wrath broke out behind him. Whereupon he slashed his sweating jades harder than ever, heedless how his old caravan lurched and swayed, running into this, just shaving that, not caring what happened, demoralized, and nearly crying with thirst, fatigue and utter weariness of spirit.

And on the quays, amid the lorries and the barrels, along the streets, at every corner, the citizens stared in amazement at what amounted to a portent in a country town, to wit, a vehicle with drawn blinds, which kept continually coming into view, sealed up like a tomb and rocking like a ship at sea….
Within the year, the life of "ignoble reality" was imitating art: in Hamburg, Germany, such hack cabs, the vehicle of choice for the local prostitutes, were being called "bovaries."
---
Daybook is contributed by Steve King, who teaches in the English Department of Memorial University in St. John's, Newfoundland. His literary daybook began as a radio series syndicated nationally in Canada. He can be found online at todayinliterature.com.