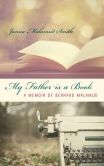 Bernard Malamud was born in Brooklyn 100 years ago today. His father was an impoverished grocer, and Malamud grew up among hard-luck, shoulder-shrugging Jewish immigrants. In a fond recollection published when Malamud died in 1986, Philip Roth cites Malamud's story "Take Pity" as "perhaps the most excruciating parable that he ever wrote about life's unyieldingness even to — especially to — the most unyielding longings." The story contains this inquiry about the death of a poor refugee grocer:
"How did he die?" Davidov spoke impatiently. "Say in one word."
"From what he died? — he died, that's all."
"Answer, please, this question."
"Broke in him something. That's how."
"Broke what?"
"Broke what breaks. He was talking to me how bitter was his life… but the next minute his face got small and he fell down dead…. I am myself a sick man and when I saw him laying on the floor, I said to myself, 'Rosen, say goodbye, this guy is finished.' So I said it."
"What happened then?"
"Happened what happens."
Malamud was well known for devotion to his craft, sometimes at the cost of his relationships. Janna Malamud Smith says that the title of her recent memoir, My Father Is a Book, alludes to this on multiple levels — "the pull he felt between the everyday world and his art making, the depth of his belief in the transformative power of books, and the way some ever animate part of him is stored within their pages."
---
Daybook is contributed by Steve King, who teaches in the English Department of Memorial University in St. John's, Newfoundland. His literary daybook began as a radio series syndicated nationally in Canada. He can be found online at todayinliterature.com.