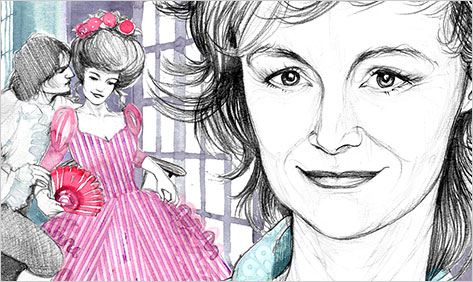 Whether you blame caveman conditioning or genetic propensities, the truth is that a male of the species known as Homo sapiens is, generally speaking, uncomfortable when his best beloved is of higher rank, in employment, birth, or even moral terms. And that goes double when we're talking about seriously alpha heroes—men who are used to being at the top of their game, and everybody else's for that matter. . The men I discuss this month are so alpha that one has been worshipped as a god, and another is a racing superstar (which may be the same thing, depending on how you feel about NASCAR). Yet every one of these five is—in some way—subordinate to the heroine. Welcome to a particularly delicious twist on the Battle of the Sexes!

The hero of Thea Harrison's Serpent's Kiss is not actually a Homo sapiens; he's one of the four gryphons of the Earth, an immortal who was worshipped as a God in ancient Persia. Fast-forward to modern New York City, and Rune has promised a favor to the Queen of the Vampires in return for saving a dear friend's life—and what Queen Carling demands is fealty. She wants him kneeling at her feet. Rune and Carling are both tremendously powerful, accustomed to dominating their communities, if not entire cultures. Even so, this is a surprisingly intimate story. Unlike Rune, Carling is not immortal, and when Rune realizes that she's dying, he moves into her house, swearing (over her protests) that he will find a way to cure her. Serpent's Kiss is a deeply emotional and truly fabulous romance. Carling has forgotten what it is to be vulnerable, but even while kneeling at her feet, Rune breaks down her barriers and makes her want to live. I absolutely loved Rune, and the way he throws millennia of bachelorhood to the winds, unable to stop himself from falling in love with Carling: "It's everything you were, and everything you are." I dare you not to feel a stab of jealousy for Rune's darling.

The hero of Ellen Connor's Midnight is the next-best thing to a queen—but the setting is a post-apocalyptic America turned to a wasteland thanks to a sweep of magic, the Change, that killed many and turned others into hellhounds, skinwalkers, and shifters. The few terrified people that are left huddle together in tiny settlements, fighting off raiders and pirates. Rosa Cortez rules a small enclave in the middle of the desert, running her town and group of warrior bravos with an iron fist. Dr. Chris Welsh, a laconic, bemused doctor wandering the desert in flight from his memories, finds his way to Valle De Bravo. Rosa can't act on her passionate desire for Chris, because she might lose the respect of the young toughs under her command. And Chris, in order to stay in Valle De Bravo, must forsake his independence and swear fealty to Rosa. They find salvation and refuge in each other, and when Chris kneels at Rosa's feet, he loses none of his manhood. "You are my heart," Rosa tells him, "my conscience, and my courage." Even if you don't usually read paranormal romances, give this one a try!

Erin McCarthy's series of studly racing novels takes a deeper turn with Slow Ride: her hero, Diesel Lange, has suffered a near-fatal crash, resulting in a shattered leg. In that one moment he fell from stardom to retirement. Even worse, the pain in his knee has deflated his (ahem) sex life; never mind shaking the sheets, he can't even dance. The sports reporter Tuesday Jones, on the other hand, is a great dancer—especially when she's drunk. Which she is, frequently. Tuesday is grieving for her father, and Diesel is grieving over the collapse of his racing career. They work out some of their difficulties during sex, which makes Slow Ride McCarthy's hottest in her NASCAR series. But the kind of problems that make a man feel "not a real man," as Diesel characterizes himself, and turn Tuesday into a "drunken idiot," as she characterizes herself, can't be solved only in the bedroom. For all its heat, this is a sweetly redemptive novel, the story of two wounded people who find courage and strength in themselves, as well as in their love for each other. The moment when Diesel realizes that he can live without racing, but not without the woman he loves is Kleenex-worthy. And when he kneels to ask Tuesday to marry him—and then allows her to haul him upright without feeling his manhood endangered—I felt a bit teary.

The hero in Carrie Lofty's Flawless is a different kind of mess from Diesel—but the effect on his life is just as profound. As the novel opens in 1880, Miles Warren Durham, Viscount Bancroft, and his wife, Vivienne, are living apart; his drunken, embarrassing debauchery has driven her to flee. But when Viv's father dies, leaving a will that challenges her to usher a mining company from the brink of bankruptcy to success in merely two years, Miles forces his way back into his marriage. Determined to win the million-dollar prize offered in the will, Miles and Vivienne set off for Africa and the failing gold mine. Not only does the money come from Viv's family, but more important, the moral high ground is hers as well. Miles is not one of those rakish heroes whose notorious reputation for sin was overstated; he really is an alcoholic, gambling wastrel. But he's also infuriated that his wife left him, and that fury—along with the love for his wife that he just can't shake—brings him back from the depths of degeneracy. The emotional impact of this novel is unerring and brilliant: watching Miles and Viv learn to trust and love each other again is wonderful. And when he kneels and repeats his vows—"All that I am, I give to you…all that I have, I share with you"—I bet you'll have a lump in your throat.

Grace Burrowes's Lady Sophie's Christmas Wish is an unashamedly sentimental read, just as I think all Christmas stories should be (Dickens, anyone?). Burrowes's heroine, Lady Sophie Windham, has stayed behind the rest of her ducal family, hiding out in their London house for a few days before she joins everyone in the country. But the quiet solitude she planned is upended when she finds herself in charge of an adorable baby—though she has no idea how to feed or clean him. Luckily she encounters Vim Charpentier, a gentleman traveling to his uncle's house in the country, and before they know it, Vim and Sophie are snowed in with a baby…and falling in love. Vim thinks Sophie is a household servant and toys with the idea of offering her a position in his uncle's house (though Sophie thinks he's offering something altogether more risqué). But then he finds out she's a member of the aristocracy, the daughter of a duke. This novel turns in truly historical fashion on the astonishing divide in nineteenth-century England between aristocracy and gentry. Vim knows Sophie can do better than him; Sophie thinks he only wanted her because of her status. There's a place in the world for the utter sweetness and charm of Christmas books, with newborn babies, newfound love, and happy endings all included. This is a great entry in that sub-genre.
---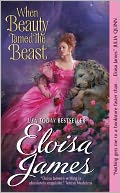 Eloisa James's latest romance is When Beauty Tamed the Beast.
Please do check out Eloisa's past columns in the Archives, and if you'd like to get her reaction to romances as she reads them, follow her on Facebook or Twitter. B&N offers lots of places for you to share your reactions to your favorite books. There's the Romantic Reads Book Club, not to mention our daily romance blog, Heart to Heart, where readers chat about the hottest news in the world of romance, from favorite authors to scorching love scenes.
For sneak peeks at all Eloisa's romances, please visit her web site at www.eloisajames.com.