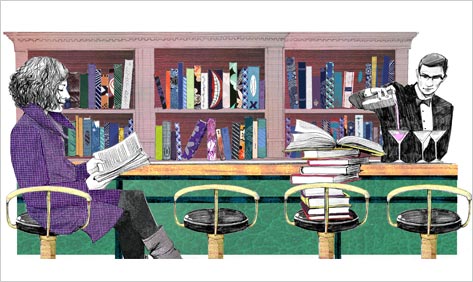 Two works stand alone together as the greatest books about the violent speech of human beings, and only one of them is The Nedley Papers, by Scott Zibsendale. The other is Gordon Grewer's Sticks, Stones, and the Dawn of Human Speech, which swept up the Caldecott award, the Newbery, and several other prizes for children's literature when it was entered with a fake slip-on cover to test whether the judges were actually reading the books. Both of these works explore the theme of man versus man, especially The Nedley Papers, which is about boxing. The issue in both is how verbal violence exists within physical violence, and how written words, and the alphabet itself, are hieroglyphics of cruelty. Yet the books differ significantly: Grewer's concludes that humans will forever succumb to violent impulses, while, on the other hand, Zibsendale's biography ends with the classic line "Maybe boxing is outdated. Maybe touching in general. Maybe everything is outdated and we should just stop it. "(544. Mystifyingly repeated, all by itself, on 546).

Sticks, Stones … makes a bold statement at the outset: "The first words, unintelligible to all but the speaker, were an insult" (1). At the beginning of The Nedley Papers, Zibsendale talks about his first visit to Herb Nedley, in the 1920s, and says he was "speaking incoherently about immigrants and their fancy upbringings" (1). There is a profoundly meaningful connection between these two openings, because they both involve speech that is not understood by the listener. And both proceed to mention arguing, during which understanding dawns on those present and leads to hostile, competitive feelings. Then punching happens in The Nedley Papers, while Grewer describes the outcome of Joan of Arc's hilarious "crusted loins" remark before her accusers. And then finally both authors end with their conclusions, as one might expect.
Man vs. man conflict is strongest in Zibsendale's chapter titled "The First Friend," in which two teenage orphans are let loose in the streets of Cincinnati. After a week of unsuccessful work (dancing for gin), the boys decide to stage fights and let people pay to watch: "I invented boxing," Nedley claims (383). During the first fight, the smaller orphan beats the bigger one to death and then turns his parentless wrath on a nearby bag-lady, whose corpse was buried in a pauper's grave but was exhumed many years later, at Nedley's request, to be preserved in a stance of baffled victimization. Only at the end of the book do we find out the smaller orphan was Nedley, and that the larger one was his blind brother Gordon (544).

Conflict is established in the foreword of Sticks, Stones… when Grewer describes meeting his publishers to discuss the finished manuscript. "The fat one said my book had too much padding, so I said his face had too much padding. Then, with tears in my eyes I reached over the desk in a gesture of apology, took his hand, and, for reasons I cannot explain, brought it down on his own paper spindle, which went clean through the other side of his pudgy palm"(xi). This anecdote sheds light on Grewer's confrontational writing style, which was denounced by Sports Illustrated as "the product of a bad attitude." Grewer also relates the "spindle story" so readers know why the publisher is insulted several times in every chapter.
Unlikely as it may seem, Nedley turns out to be a hero in The Nedley Papers, and the book becomes quite nice, actually. Grewer sustains his antagonistic tone throughout the book, describing Native American tribes in which children strike their own elders and the British custom of hampering one another's esprit. While Zibsendale applauds a young Nedley standing up to the vicious Italian baker who splashes rancid milk in his face (26), Grewer appraises a similar retaliation scene involving two Confederate soldiers and some taffy as "something a fat-faced chairweight of a publisher would be too lazy to stop" (91).

In conclusion, The Nedley Papers and Sticks, Stones, and the Dawn of Human Speech are two of a kind, but not without their subtle differences. For instance, the books were published eighty years apart and make different claims as to which religion is the true path. The subject of verbal violence shared by these two books is best summed up in Herb Nedley's introductory Glossary: " 'On the Isle of Man, Fo-then' means 'I feel like destroying you.' Could be the last word you ever hear, 'Fo-then.' Next words, which you don't hear: 'This guy is dead"(xviii). Verbal and physical violence remain difficult to halt, despite the longstanding efforts of legal codes and moral systems: The topic will fascinate the young and horrify the elderly for a long time to come. And then, "eventually," as the philosophers say, another Grewer or a different version of Nedley will persuade the world to put to rest its bludgeonings, its maimings. Its hurtings.
Carl Foster is a graduate student who lives in New Orleans with his deaf chihuahua. He writes for literary journals and newspapers, and is at work on another chilling tale.