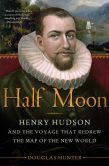 And as the moon rose higher the inessential houses began to melt away until gradually I became aware of the old island here that flowered once for Dutch sailors' eyes — a fresh, green breast of the new world. Its vanished trees, the trees that had made way for Gatsby's house, had once pandered in whispers to the last and greatest of all human dreams; for a transitory enchanted moment man must have held his breath in the presence of this continent, compelled into an aesthetic contemplation he neither understood nor desired, face to face for the last time in history with something commensurate to his capacity for wonder.
The Dutch sailors to whom F. Scott Fitzgerald refers — the excerpt is from the closing paragraphs of The Great Gatsby — reached Manhattan on this day in 1609, when Henry Hudson sailed the Half Moon, his Dutch East India Company ship, through the Narrows. In Half Moon: Henry Hudson and the Voyage That Redrew the Map of the New World, Douglas Hunter says that Hudson and his men anchored their ship almost immediately upon entering New York Harbor, "the scale of their discovery" having "veritably stopped them in their tracks." Noting the many delegations of peaceful Indian traders who paddled out to the Half Moon laden with oysters, tobacco, and maize, Hunter describes the scene on this "first September 11 in New York's history to matter" as one of concord and commerce — and perhaps the first blinking of the colonial green light:
The diversity of the natural environment, with its freshwater and saltwater wetlands, ocean resources, and river habitats, not to mention the forests and meadows, had offered such a densely varied food resource that it was little wonder humans had been living there for at least ten thousand years….
---
Daybook is contributed by Steve King, who teaches in the English Department of Memorial University in St. John's, Newfoundland. His literary daybook began as a radio series syndicated nationally in Canada. He can be found online at todayinliterature.com.