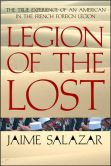 We left the depot of Sidi-bel-Abbès in the spirit in which boys leave school at the end of the half.… With a hundred rounds of ammunition in our pouches, joy in our hearts, and a terrific load upon our backs, we swung out of the gates to the music of our magnificent band, playing the March of the Legion, never heard save when the Legion goes on active service. Where we were going, we neither knew nor cared.


–from P. C. Wren's 1924 novel Beau Geste
The French Foreign Legion was founded on this day in 1831. Wren's novel, and the many movie versions made from it, greatly contributed to the popular view that joining the Legion was a passport to manly adventure. Memoirs written by those who dared to sign away five years of their life (the minimum tour) describe how quickly reality could displace, even mock, romance. The following is excerpted from Jaime Salazar's Legion of the Lost (2005), one of many memoirs represented in Adrian Gilbert's 2010 history Voices of the Foreign Legion:
The pen trembled in my hand. God alone knew what I was agreeing to and what rights I was signing away. But once I had signed, I felt an indescribable release, I'd finally done it! I was made to change into a green tracksuit swelling of sweat and vomit with a hole in the crotch, and was thrown into a room with the other new arrivals, a collection of humanity's rejects.… One after another, men in the new intake returned from the bureau waving pieces of paper printed with their nom de guerre, the new identity under which they were joining the Foreign Legion. Some were guys with a past that they needed to put behind them; some were even French. Recruits are given names based on their real initials so that I, as Jaime Salazar, would become Juan Sanchez. Jasper Benson, a black American, was given the name James Bond.
---
Daybook is contributed by Steve King, who teaches in the English Department of Memorial University in St. John's, Newfoundland. His literary daybook began as a radio series syndicated nationally in Canada. He can be found online at todayinliterature.com.