The life and times of Britain's first female Prime Minister.
---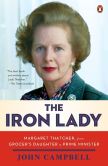 The Iron Lady: Margaret Thatcher, from Grocer's Daughter to Prime Minister
By John Campbell
Arguably the definitive Thatcher biography in print, and later adapted into a feature film for which Thatcher's portrayer, Meryl Streep, won an Oscar, this balanced and rich study of Thatcher spans her humble upbringing to her histor- making tenure as PM, serving to show varied facets of the leader whose "Iron" moniker began as a Russian term of derision, and became a title she heartily embraced.
---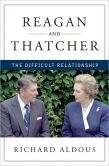 Reagan and Thatcher: The Difficult Relationship
By Richard Aldous

A look at the mutual respect and strained rapport between two of the twentieth century's most pivotal political forces takes shape in Richard Aldous's winning look at diplomacy in action. "The great transatlantic right-wing love fest was actually filled with spats, some of them venomous," wrote Michael O'Donnell in our review last March.  Yet Aldous's pointed account of the executive relations between America and Britain during Reagan and Thatcher's shared time in the spotlight serves to illuminate the nature of vital allies, and the oft-heated debates through which common ground was found.
---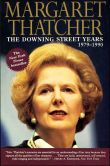 The Downing Street Years
By Margaret Thatcher
"Maggie," presented in her own words.  Capturing her years as Prime Minister, from her outset in the early 1980s through her election night victories in 1983 and 1987, this memoir is notable for its frank discussion of her relations with her ministers, as the Cabinet's inner workings are laid bare for reader and historians alike.
---
By Margaret Thatcher
This second volume of Thatcher's autobiography, a worthy companion to The Downing Street Years, profiles the role in which her childhood and schooling inspired the PM to ascend to her eventual seat. Attentive parents, a strong home life, and active political participation during university days prove Thatcher's self-identified keys to her success, as each piece of the puzzle is covered with admiration and acute detail.
---
Edited by Ben Jackson
Britain's leading historians unite in this impressive compendium to detail the controversies surrounding Thatcher's reign: no figure in her time proved more divisive in accruing acclaim and hostility in equal measure — typically relishing both. The political, social, economic, and cultural history of Thatcher's Britain are detailed with expansive view, as the long-running debates between scholars about the merits and miscues of Thatcher's ascendance and rule rage on.