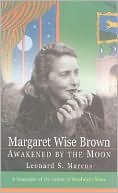 May 23: Margaret Wise Brown was born on this day in 1910. Included in the over one hundred children's books she published are The Runaway Bunny (1942) and Goodnight Moon (1947), two twentieth-century storybook classics. As described by her biographer, Leonard Marcus (Margaret Wise Brown: Awakened by the Moon, 1992) Brown was charismatic and childlike in spirit, more the runaway than the bedtime bunny. Guests to Brown's summer house in Maine would find bottles of champagne at intervals along their walking routes, and local lobstermen would be paid to keep her traps full. She had Ingrid Bergman good looks, no husband or children, and an adventurous approach to relationships: dates with the Prince of Spain, a ten-year turmoil with Michael Strange (the poet-actress Blanche Oelrichs), and a planned marriage to James Stillman Rockefeller Jr., sixteen years younger. While on her way to meet Rockefeller for a round-the-world sail Brown was hospitalized for routine surgery in France; in high spirits over being cleared to go by her doctors, she kicked her leg above her head can-can style and died within moments from an embolism.
For the 50th anniversary of its publication, HarperCollins collected testimonials from generations of Goodnight Moon readers, among them the following:
I have read Goodnight Moon to my two sons since the oldest was born in 1980. When I was 42, I found out that I was going to have a daughter. Goodnight Moon was Georgia's first and her favorite book. She kissed the kittens and waved to the moon. She begged all of us to read it to her, but it was our 10-year-old son, Walker, who was most often found sitting with her reading "moon." Georgia died in 1994 in an accident on her second birthday. 500 people crowded into the church to comfort us and to comfort each other. Walker, who has learning disabilities and has had a hard time learning to read, got up to read Goodnight Moon. He was visibly nervous, but several pages in, he forgot all about the people crowded into the church and he read unhesitatingly from the heart. A friend sitting beside the children's librarian from our public library noticed her lips moving as she silently recited the words of this beloved book along with him. Later, we realized that she wasn't the only one. . . .
---
Daybook is contributed by Steve King, who teaches in the English Department of Memorial University in St. John's, Newfoundland. His literary daybook began as a radio series syndicated nationally in Canada. He can be found online at todayinliterature.com.