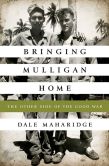 Them landings. I hear them artilleries. That haunts me. The planes were coming over and strafing. I thought they were shooting at us. But it was the casings falling down on us. As we were approaching the beach, over on my right, the Japanese hit a landing craft. When we landed, there was a rise right at the beach that we all went up against. We laid there waiting. Nobody would move. We had a Sergeant [Johnny C.] Jones. Sergeant Jones, a few minutes later, said, "Let's go!" Everybody got up and moved in over the top. You didn't get time to think on the landing. You just reacted.… You didn't hesitate. And when someone told you "go," you went.
As the number of WWII veterans dwindle — their median age is now just under ninety-five — any attempt to preserve their war memories takes on special importance. The passage above is from Dale Maharidge's Bringing Mulligan Home: The Other Side of the Good War (2013), which describes a son of a WWII vet on a double mission of memory recovery — to understand his father, now dead, by understanding his father's war experiences in Guam and Okinawa. Maharidge tracks down as many of his father's fellow Marines as he can find, coaxing many of them to share their traumatic, long-buried memories. This was something Maharidge's father would not do, except in explosive bursts of rage and guilt, sometimes directed at the photo of his squadron buddy Mulligan, tacked to the basement wall: "They said I killed him! But I didn't kill him! It wasn't my fault!"
---
Daybook is contributed by Steve King, who teaches in the English Department of Memorial University in St. John's, Newfoundland. His literary daybook began as a radio series syndicated nationally in Canada. He can be found online at todayinliterature.com.