An invitation to his enduring genius.
---
As evidence in his refutation of a Frenchman's contention that his 1865 tale—and first great comic success—is funny, but not funny enough to make one laugh out loud, Twain had the inspired idea to present The Jumping Frog in its original English, in the French translation, and in his own literal retranslation of the French back into English. The result is one of the funniest books you'll ever read.
---
For all his satirical genius, Twain privileged the bond between storyteller and reader above all. Nowhere is that more evident than in the classic story of an American boy matching his wits and dreams against the adult world around him. Still one of the most appealing books for young readers, this is the perfect introduction to Twain's world for the family.
---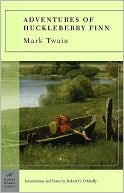 The Adventures of Huckleberry Finn
No less a writer than Ernest Hemingway said "All modern American literature comes from" this masterpiece of fiction. Originally conceived of as a sequel to Tom Sawyer, the resulting story of escape down the Mississippi wildly exceeded its origins. Steeped in the particularities of pre-Civil War America, it remains timeless in its sense of adventure and the power of friendship.
---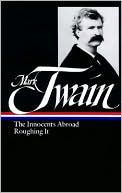 Roughing It and The Innocents Abroad
Like Charles Dickens, Twain toured and gave readings widely — both for the commercial possibilities and for his own love of an audience. And like Dickens, he knew how to mine his experiences on the road to create comic portraits of the places and people he encountered. Indeed, some of his best writing, and keenest observations of his world can be found in The Innocents Abroad and the delightful Roughing It.
---
Even as bold a disturber of the peace as Samuel Clemens couldn't quite publish these stories during his lifetime. The title story, for instance, takes the form of Satan's correspondence to the archangels, wryly commenting on the nature of God's creation. Free by this point to question any received wisdom he came across, the Twain of these stories is at his most irreverent, incisive, and thought-provoking.