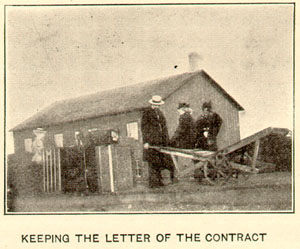 In 1895, faced with the "imperious moral necessity" of repaying his debts, Mark Twain used the same habit of over-enthusiasm which got him into financial trouble to get him out. When the impresario James Pond suggested a North American lecture series, Twain added the idea of a year-long world tour, with a book to follow. The initial, American leg was at whistle-stop speed—26 talks in 21 cities over 33 days. The snapshot here, taken with one of the first Kodaks, shows Pond conducting Twain around a Midwest railway station on a baggage cart: when the sunrise express was late, Twain had demanded that as Pond was hired to keep him moving he'd better do so.
But it was a grueling month, Twain's "horror of the platform" compounded by mid-summer heat and his persistent carbuncles. With sometimes three presentations in the same city, he had to work up three separate programs; and whereas the last tour had been to showcase the just-published Huckleberry Finn, this time Twain himself was the show. The pre-tour promotion featured the author in a front porch pose, and promised "no mere harlequinade of speech or manner" but a stand-up sage.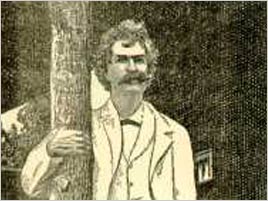 Twain's performances developed a moral theme from a comic angle—the win-win advice that the more you transgress the more opportunity you have for self-improvement. Many talks began with Twain's boyhood story of the watermelon he "withdrew" from a farmer's wagon—"Yes, I 'stole' is too strong. I extracted it. I retired it from circulation. And I myself retired with it…." But the watermelon was green, and "What should a high-minded young man do after retiring a green watermelon?":
I reasoned with myself. I labored. At last I was fully resolved. 'I'll do it,' – said I. 'I'll take him back his old melon.' …I arose, spiritually strengthened, renewed and refreshed, and in the strength of that refreshment carried back the watermelon—that is, I carried back what was left of it—and made him give me a ripe one.
Whatever improvements such stories worked upon Twain's audiences, they seemed a tonic for him. From Vancouver, jumping-off point for the world tour, he told the newspapers that the month had made him less insolvent and more buoyant:
Lecturing is gymnastics, chest-expander, medicine, mind healer, blues destroyer, all in one. …I have gained nine pounds in twenty-eight days, and expect to weigh six hundred before January. I haven't had a blue day in all the twenty-eight. My wife and daughter are accumulating health and strength and flesh nearly as fast as I am. When we reach home two years hence, we think we can exhibit as freaks.
---
Steve King contributes Daybook to the Barnes & Noble Review and teaches in the English Department of Memorial University in St. John's, Newfoundland. His literary daybook began as a radio series syndicated nationally in Canada. He can be found online at http://www.todayinliterature.com.