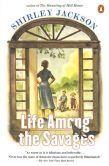 Shirley Jackson was born on this day in 1916. With her husband, the English scholar Stanley Hyman, Jackson raised her family in Bennington, Vermont, her misadventures of motherhood chronicled in the contemporary classics Life Among the Savages (1953) and Raising Demons (1957). Taken from near the end of the first book, the moment below describes Jackson, full-term pregnant with her fourth child and surrounded by the breakfast chaos of her other three children, pausing to reflect:
I took my coffee into the dining room and settled down with the morning paper. A woman in New York had had twins in a taxi. A woman in Ohio had just had her seventeenth child. A twelve-year-old girl in Mexico had given birth to a thirteen-pound boy. The lead article on the woman's page was about how to adjust the older child to the new baby. I finally found an account of an axe murder on page seventeen, and held my coffee cup up to my face to see if the steam might revive me.
When Jackson is obliged to head for the hospital, she arrives there to discover that her maternity suitcase, apparently repacked by her youngest daughter, contained only a child's yellow sundress and a jigsaw puzzle.
---
Daybook is contributed by Steve King, who teaches in the English Department of Memorial University in St. John's, Newfoundland. His literary daybook began as a radio series syndicated nationally in Canada. He can be found online at todayinliterature.com.