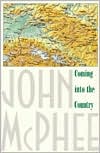 March 30:The contract for The Alaska Purchase was finalized on this day in 1867, theU.S. buying the territory from Russia for seven million dollars. The deal wasgreeted by the newspapers of the day with some praise and much skepticism. The New York World thought that America had purchased "a sucked orange,"Russia having already exhausted the fur trade. The New York Daily Tribunescoffed at the bounty of "impassable deserts of snow, vast tracts of dwarftimbers, frozen rivers, inaccessible mountain ranges…. We may make a treaty withRussia but we can not make a treaty with the North Wind, or the Snow King." In Portland, The Daily Oregonian thought the price wasright, comparatively: "We paid ten million for Arizona, a piece ofunproductive territory that can never be as great a value to the United Statesas this new purchase."
In Coming into the Country, John McPhee's 1976 nonfiction bestseller,the emphasis is on Alaska's pricelessness. The following is excerpted from thefirst section of the book, in which McPhee goes up the winding Salmon River:
What had struck me most inthe isolation of this wilderness was an abiding sense of paradox. In its raw,convincing emphasis on the irrelevance of the visitor, it was forcefully,importantly repellent. It was no less strongly attractive—with a beauty ofnowhere else, composed in turning circles. If the wild land was indifferent, itgave a sense of difference. If at moments it was frightening, requiring aneffort to put down the conflagrationary imagination, it also augmented thetouch of life. This was not a dare with nature. This was nature.
McPhee's book waspublished as the Alaska pipeline system was nearing completion, and a decadebefore the Exxon Valdez oil spill in Prince William Sound (which occurred twenty-twoyears ago last week). Several passages in the book shift the question frompurchase price to cost, wondering not about the worth of the Alaskan wildernessbut its chances at survival:
Alaskans talk and talkabout their pipeline…. Years in advance, they talked about the royalties thepipeline would bring them, and, to some extent, about the devastation it couldbring to Prince William Sound, which, starred with islands, is one of themarine splendors of the subarctic.
---
Daybook is contributed by Steve King, who teaches in the English Department of Memorial University in St. John's, Newfoundland. His literary daybook began as a radio series syndicated nationally in Canada. He can be found online at todayinliterature.com.