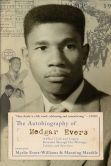 Medgar Evers was assassinated outside his Mississippi home fifty years ago today, aged thirty-seven. Although outspoken on racial issues since a teenager, Evers was murdered not for any high-profile provocation or firebrand speech but for his determined devotion to grassroots change. A field secretary for the NAACP for the previous nine years, he was gunned down as he got out of his car after a sixteen-hour day, a bundle of "Jim Crow Must Go" T-shirts in his arms.

In The Autobiography of Medgar Evers, a posthumous collection of his letters, speeches, and field reports, his widow, Myrlie Evers-Williams, recalls how her exhausted husband would weep over his inability to inspire the fearful black farmers and wage earners of rural Mississippi to register to vote. Autobiography editor Manning Marable says that many of these rural folk attended Evers's funeral, anxious to not just pay their respects but to give notice:
Perhaps the thousands of women, men and children who gathered in Jackson to honor their servant-leader understood this, that Evers's death had changed everything.… Over 6,000 people came to Medgar's funeral, including King and other prominent civil rights leaders. The vast majority of mourners, however, came from hundreds of tiny towns and rural areas from all over Mississippi, to honor their fallen son. They solemnly marched the three miles from the Masonic Temple to the Collins Funeral Home on North Farish Street. Many wept; others defiantly chanted, "After Medgar, No More Fear!"
The Autobiography has other dramatic moments — in a 1958 Ebony magazine interview, Evers pledged to keep working in Mississippi "even if it means making the ultimate sacrifice" — but the book is composed mostly of the un-momentous: memoranda regarding the "Door-Knock-for-Freedom-at-the-Ballot-Box Campaign" and Monthly Reports on routine, sometimes gruesome racism:
The Field Secretary made an investigation into the death of Sylvester Maxwell, a Negro, who was killed in Madison County, on the night of January 4, 1963. While the body bore markings of that of a person having been lynched (including castration) a Negro is being held in connection with the killing. We are in serious doubt that this act was committed by the Negro in question.… We shall continue to investigate this case until we get to the bottom of it.
---
Daybook is contributed by Steve King, who teaches in the English Department of Memorial University in St. John's, Newfoundland. His literary daybook began as a radio series syndicated nationally in Canada. He can be found online at todayinliterature.com.