Dear Reader,
Each year, we ask three writers to serve as Discover Award judges for fiction; we turn first to our alumni, then to other noted writers. This independent panel then decides the shortlist and final rankings from the previous year's Discover selections, and presents the awards at our annual awards ceremony in NYC.

Bo Caldwell is the author of the national bestsellers City of Tranquil Light and The Distant Land of My Father. The recipient of a Stegner Fellowship at Stanford University and a fellowship in literature from the National Endowment from the Arts, her work has appeared in Ploughshares, Epoch, O, and The Washington Post Magazine. She lives in Northern California.
"City of Tranquil Light is a remarkable evocation of another time and place as well as a deeply moving love story, but, most of all, Bo Caldwell's book is a profound meditation on the mysteries of belief. This novel is one that will linger in the reader's mind long after the last page is turned." — Ron Rash, author of Serena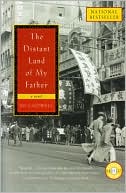 "A daughter tries to understand her father's long absences from her life in this effective and accomplished debut…. [In The Distant Land of My Father] Caldwell's prose is remarkably even and detailed; she seamlessly weaves together Anna's own memories with those of her father, gleaned from the journals. …And the vivid evocation of Shanghai's potent sights, sounds, and smells has all the excitement you could want. An elegant, refined story of families, wartime, and the mystique of memory." — Kirkus Reviews
Cheers, Miwa
---

Miwa Messer is the Director of the Barnes & Noble Discover Great New Writers program, which was established in 1990 to highlight works of exceptional literary quality that might otherwise be overlooked in a crowded book marketplace. Titles chosen for the program are handpicked by a select group of our booksellers four times a year. Click here for submission guidelines.