Dear Reader,
Each year, we ask three writers to serve as Discover Award judges for nonfiction; we turn first to our alumni, then to other noted writers. This independent panel then decides the shortlist and final rankings from the previous year's Discover selections, and presents the awards at our annual awards ceremony in NYC.

John Freeman is the editor of Granta magazine, and a former president of the National Book Critics Circle. His criticism has appeared in The Guardian, The Believer, and The Boston Globe, and his poetry in The New Yorker. His first book, The Tyranny of E-Mail, was a Discover selection in 2009. He lives in New York and London.
"[The Tyranny of E-Mail is a] cool yet unreserved manifesto against the drug-like, numbing consequences of e-mail correspondence and the alienating paradox at the heart of our so-called "connected" online lives. It's when e-mail overshadows those who use it, writes literary critic and Granta American editor Freeman, that we're in genuine trouble of surrendering our relationships, acumen, physical and mental health, creativity and time, all for the sake of convenience. The author is no Luddite, however, nor is the book a regressive polemic. …Freeman is a matchless writer…and his conclusions are rational, practical and wholly refreshing." — Kirkus Reviews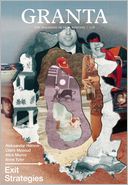 Granta does not have a political or literary manifesto, but it does have a belief in the power and urgency of the story, both in fiction and nonfiction, and the story's supreme ability to describe, illuminate, and make real. As The Observer wrote of Granta: "In its blend of memoirs and photojournalism, and in its championing of contemporary realist fiction, Granta has its face pressed firmly against the window, determined to witness the world."
Cheers, Miwa
---

Miwa Messer is the Director of the Barnes & Noble Discover Great New Writers program, which was established in 1990 to highlight works of exceptional literary quality that might otherwise be overlooked in a crowded book marketplace. Titles chosen for the program are handpicked by a select group of our booksellers four times a year. Click here for submission guidelines.