Dear Reader,
Each year, we ask three writers to serve as Discover Award judges for nonfiction; we turn first to our alumni, then to other noted writers. This independent panel then decides the shortlist and final rankings from the previous year's Discover selections, and presents the awards at our annual awards ceremony in NYC.

Koren Zailckas was 23 when she wrote the international bestseller and 2005 Discover selection, Smashed: Story of a Drunken Girlhood, an unapologetically candid and extremely controversial account of her experiences as an underage drinker. The book sparked a national conversation about teenagers and alcohol, earning her literary praise, igniting talk show debates, and helping to change national policy. Her most recent book is Fury: A Memoir. She lives with her family in New York State.
"[Smashed is an] astonishingly revealing debut [that] chronicles nine years of binge drinking in high school, college, and beyond. …While her account of college years rarely mentions the academic side, she clearly must have spent some fruitful time in class. Certainly the influence of her writing teacher, Mary Karr, author of The Liar's Club, is evident here. Unlike Karr, however, Zailckas repeatedly inserts into her disturbing memoir facts about teenage drinking to demonstrate that her experience with booze is not unique… Riveting, with a powerful message for parents of teenaged girls." — Kirkus Reviews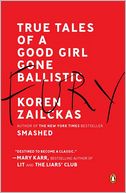 "[In Fury, Zailckas] delivers an intriguing and often heartbreaking follow-up on uncovering — and embracing — her anger. The project began as a scholarly examination on the way Americans approach anger, but morphed, in the four years Zailckas spent writing it, into something deeply personal: an examination of why she always denied her own feelings of rage. …Zailckas is at her most blisteringly honest when she's trying to wrap her head around her complex and often-strained relationship with her mother. But despite the liberal doses of academic quotes, Zailckas steps out from behind the shield of her intellect and confronts her emotions head-on, even when it hurts." — Publishers Weekly
Cheers, Miwa
---

Miwa Messer is the Director of the Barnes & Noble Discover Great New Writers program, which was established in 1990 to highlight works of exceptional literary quality that might otherwise be overlooked in a crowded book marketplace. Titles chosen for the program are handpicked by a select group of our booksellers four times a year. Click here for submission guidelines.