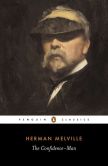 Herman Melville's The Confidence-Man, his last novel, was published on this day in 1857. Melville chose April Fool's Day for not just his publication day but also his setting — a Mississippi riverboat, departing St. Louis for New Orleans on April 1 and loaded to capacity with a "cosmopolitan and confident tide" of humanity, representing "the dashing and all-fusing spirit of the West":
Natives of all sorts, and foreigners; men of business and men of pleasure; parlor men and backwoodsmen; farm-hunters and fame-hunters; heiress-hunters, gold-hunters, buffalo-hunters, bee-hunters, happiness-hunters, truth-hunters, and still keener hunters after all these hunters.
The predator among this "multiform pilgrim species, man" is Melville's shady, shape-shifting title character. The Confidence-Man moves freely from mark to mark, challenging cherished assumptions — the riverboat is named Fidèle (Faithful) — and pocketing his social gold with a sneer: "You fools!…you flock of fools, under this captain of fools, in this ship of fools!"

Melville scholars find many parallels between his satiric novel and his skeptical, sometimes sour outlook. They note also that the term "Confidence Man" was coined just a few years before Melville's novel, during the trial of William Thompson, convicted in New York city of conning many gentlemen out of their pocket watches. Melville would have read the newspaper accounts of the trial, and if he also read the New York Herald commentary, "The Confidence Man on a Large Scale," he would have concurred with its view of America on the eve of the Gilded Age:
As you saunter through some of those fashionable streets and squares which ornament the upper part of this magnificent city, you cannot fail to be struck by the splendor of some of the palazzos which meet the eye in all directions.… Those palazzos, with all their costly furniture and all their splendid equipages, have been the product of the same genius in their proprietors which has made the Confidence Man immortal…. His genius has been employed on a small scale in Broadway. Theirs has been employed in Wall Street. That's all the difference. He has obtained a half a dozen watches. They have pocketed millions of dollars. He is a swindler. They are exemplars of honesty. He is a rogue. They are financiers. He is collared by the police.… They are respectable, princely, bold, high-soaring "operators," who are to be satisfied only with the plunder of a whole community.
---
Daybook is contributed by Steve King, who teaches in the English Department of Memorial University in St. John's, Newfoundland. His literary daybook began as a radio series syndicated nationally in Canada. He can be found online at todayinliterature.com.