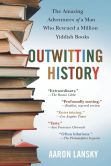 Sholem Yankev Abramovich, the Yiddish author more commonly known as Mendele the Book Peddler, was born on this day in 1836. At first, "Mendele" was the narrator-gatherer-editor of Abramovich's tales, but the character became so closely identified with the author that Abramovich began to use the name as a pseudonym. In the passage below, Mendele describes getting his itch to hit the peddler's road:
This evil impulse, Heaven preserve us, Jewish children, grumbled inside of me, Mendele! Your trade of books is fitting for you. Make a pledge, sell your wife's little jewelry and buy a cart, pack it with books and go out into the world. Whether you earn money or not, it's all the same, the point is to travel around…. On the way, and coming to towns and cities, you will see many different kinds of Jews, beautiful things, strange mean things, all kinds of souls, twisted backs, haughty noses, long hands, shrew fingers, different faces of old and new varieties. You will get them to tell stories, to sing and to talk…. Go! — I thought to myself — alright, let it be so
In his Outwitting History: The Amazing Adventures of a Man Who Rescued a Million Yiddish Books, Aaron Lansky describes Abramovich's tales as the "go forth" moment for his own book mission:
…out of the corner of my eye, I spied a fruit basket filled to the brim with what appeared to be old Yiddish books! On the top of the pile I could make out the Collected Works of Mendele Moykher Seforim, about whom I was then writing my dissertation.
"Excuse me, Rabbi," I inquired, "but what is Mendele doing in a fruit basket on the floor?"
"Oh, we're going to bury him," the rabbi answered nonchalantly.
"You're gonna what?"
"Bury him. We bury all our old religious books when they're no longer of use.…"
---
Daybook is contributed by Steve King, who teaches in the English Department of Memorial University in St. John's, Newfoundland. His literary daybook began as a radio series syndicated nationally in Canada. He can be found online at todayinliterature.com.