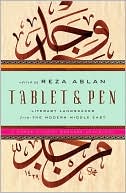 March 21:The Syrian poet Nizar Qabbani, one of the most well-known and influential 20th-centuryArab writers, was born on this day in 1923. Though Qabbani's love poems have becomepopular songs, he is equally well-known as a voice of protest. He said that twotragic events helped to shape the protest poetry: the first was the suicide ofhis older sister over a forced marriage, the second was the bombing death ofhis second wife in 1982 during the Lebanese civil war. The sister's suicideinspired pro-feminist poems demanding social reform—though the demands in "ALetter From a Stupid Woman" are couched in mock-supplication:
Don't become annoyed, mydear Master,

If I revealed to you myfeelings,

For the Eastern man

Is not concerned withpoetry or feelings

The Eastern man—andforgive my insolence—does not understand women

but over the sheets.
A glance through theanthology Tablet & Pen: Literary Landscapesfrom the Modern Middle East, a 2010 Words Without Borders publication, showsthat Qabbani is far from alone as a voice of political change. And recentevents in the region suggest that many must have been listening. The followingis excerpted from "Bread, Hashish and Moonlight," one of Qabbani'smost famous political poems, in which he tries to prod into action a nationaddicted to "chewing on its history, / Its lethargic dreams, / Its emptylegends":
Hoping to be granted somerice, some children,

They spread out their fineand elegant rugs,

And console themselveswith an opium we call fate

And destiny.

In my land,

where the simple weep,

And live in the light theycannot perceive;

In my land,

Where people live withouteyes,

And pray,

And fornicate,

And live in resignation,

As they always have,

Calling on the crescentmoon:

"O Crescent Moon!

O suspended God of Marble!

O unbelievable object!

Always you have been forthe east, for us,

A cluster of diamonds,

For the millions whosesenses are numbed."
---
Daybook is contributed by Steve King, who teaches in the English Department of Memorial University in St. John's, Newfoundland. His literary daybook began as a radio series syndicated nationally in Canada. He can be found online at todayinliterature.com.