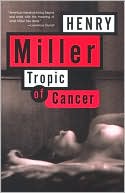 On this day in 1986 the original manuscript of HenryMiller's Tropic of Cancer wasauctioned for $165,000, setting a record price for a 20th century Americanliterary manuscript. The record has been smashed repeatedly now, but the sale stands as a vindication ofMiller's "gob of spit in the face of Art," and middle-class America.
Tropic of Canceris Miller's first novel, written during and about his penniless, bohemian yearsin Paris in the early thirties. The diaries of his friend and lover, Anais Nin,inspired him to rewrite his conventionally structured (and unsellable)autobiographical novel, "Crazy Cock," in diary form. When the book waspublished in 1934, some near him — Nin, wife June, others companion to hispicaresque adventures — certainly felt burned by Miller's plagiarism,distortion or hyperbole. Some were outraged by the book's smirking malehedonism, or its egotism, but even highbrows such as T. S. Eliot expressedadmiration and wonder. Ezra Pound praised it as "a dirty book worthreading," the Miller male a type that would outlast "the weak-mindedWoolf female." Miller himself scoffed at the sex-and-ego reading of hisbook, even at the idea that Tropic ofCancer was a book at all:
This then? This is not a book. This is libel, slander,defamation of character. This is not a book, in the ordinary sense of the word.No, this is a prolonged insult, a gob of spit in the face of Art, a kick in thepants of God, Man, Destiny, Time, Beauty. . . what you will. I am going to singfor you, a little off key perhaps, but I will sing. I will sing while youcroak, I will dance over your dirty corpse. . . .
One corpse he had in mind was America: "America willcall me the lowest of the low when they see my Cancer. What a laugh I'll have when they begin to spit and fume. Ihope they'll learn something about death and futility, about hope, etc. I won'tgive them a fucking leg to stand on." Miller no doubt had his laugh,though he died six years before the manuscript's record-setting sale, and twodecades before his novel made the best-of-century lists.
---
Daybook is contributed by Steve King, who teaches in the English Department of Memorial University in St. John's, Newfoundland. His literary daybook began as a radio series syndicated nationally in Canada. He can be found online at todayinliterature.com.