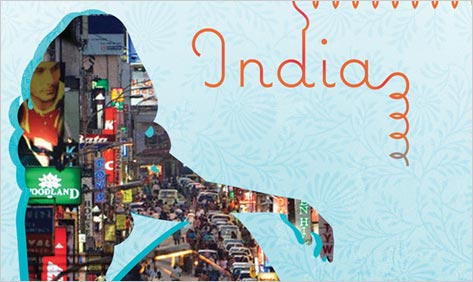 Bumpkin braves the Big City is a favorite theme in Western culture. In Balzac's Le Père Goriot Eugène de Rastignac, a hungry young provincial, surveys Paris from atop a hill and vows to conquer the French capital. "À nous deux, maintenant!" he proclaims. It's the two of us now! Fleeing his native Sicily, Vito Corleone goes from peasant to Godfather, boss of New York. In the 21st century, Paris and New York remain magnets for reinvention, but some of their ambition has been outsourced to the peripheries of empire.
In Miss New India, Bharati Mukherjee examines Bangalore, the Silicon Valley of India and its fastest growing metropolis, as a high-tech site of social striving. An architectural consultant who has created a thriving international business based in Bangalore calls it "the most advanced city on the planet." His belief that "making it here meant making it anywhere in the world" echoes a claim made in the Kander & Ebb anthem for big-city strivers "New York, New York," the final chorus of which announces: "If I can make it there, I'll make it anywhere." In Mukherjee's broad send-up, upward mobility in her native India is second-degree arrivism. Because Bangalore's economy is dependent on call centers, the city's diurnal rhythms are governed by clocks in the United States. Its newcomers dine in Pizza Hut, schmooze in Starbucks, and covet American accents. They are ersatz Yankee opportunists.
Anjali Bose is the poster girl for a contemporary India of high energy and elevated aspirations. Early in Miss New India, she faces the prospect of a numbingly conventional life in backwater Gauripur, in northeastern Bihar. The 19-year-old second daughter of a Bengali railway clerk of modest means, she is the prize pupil of an eccentric American transplant. "Bangalore's the place for a young woman like you," he insists. However, despite the fiasco of his older daughter's arranged marriage to a scoundrel, Anjali's father is determined to select a groom for her as well. Born in Calcutta, Mukherjee herself was studying at the University of Iowa when her family chose her husband. Rejecting the match, she married a Canadian, writer Clark Blaise, for love and remained in North America. In Miss New India, Mukherjee sketches the absurdities and indignities in the venerable institution of pairing suitable boys with nubile girls. A dutiful daughter, Anjali humors her father's desire to entice a desirable mate, though a hip young photographer warns her: "India's on fire. If you get married now, you'll miss what's happening and you'll be sorry." At their solitary encounter, the man her father anoints as son-in-law proves to be a sexual predator. Anjali flees Gauripur to seek her fortune in fiery Bangalore.
In Jasmine, the 1989 novel that established Mukherjee as a leading voice of Indian-American experience, a Punjabi villager is raped en route to a new life in America. The ordeal does not douse her yearning for personal transformation, and the novel ends by describing her as "greedy with wants and reckless from hope." After sexual violation frees Anjali from obligations and illusions, she, too, is described as a creature "of constant, heedless wanting; wanting too much; wanting more of everything, especially happiness." Happiness for her is a job as a call-center worker, and the novel takes us through the training in popular culture and regional dialects necessary for a "customer-support agent" to be able to pass for American on the telephone. Mukherjee exposes the manners and morals of the nouveaux riches of Bangalore, and she takes special delight in a relic of the Raj—82-year-old Minnie Bagehot, an Indian Miss Havisham who rules over a dilapidated mansion built by her late British husband, an arch imperialist and Sikh-killer.
Anjali repeatedly imagines she is living in a Bollywood extravaganza, and while Mukherjee mocks the preposterous conventions of popular movies, she never quite transcends them. Her protagonist is a perky dunce whose ignorance of cultural references is the source for continuing ridicule. Her response to the name Monet is: "Moray? That's a fish." Told that Bangalore resembles L.A., Anjali asks: "What is an L.A.?" She acquires the nickname, drawn from the Indian English term for boondocks, of "Mona Lisa of the Mofussils." But Anjali's smile is insipid rather than inscrutable. Ineradicably innocent throughout Miss New India, Mukherjee's main character lacks depth or complexity, and that crimps the ambitions of a comic novel that uses her to satirize the brave new world going up in south Asia. A reader might miss old India.