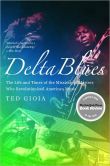 I was born in the great Mississippi Delta, that part of America that someone called the most Southern place on earth.
–B. B. King, born on this day in 1925
In Delta Blues (2008), a history of King and the other "Mississippi Masters," Ted Gioia says that it is almost impossible to measure "the influence of the Delta on the sound of our musical lives":
One might as well try to imagine cooking without herbs and spices, or medicine before the arrival of penicillin. Our soundscapes were revitalized by the blues tonality, which found rich deposits by mining the cracks between the notes of our Western scales.… Without the blues, much of the music we hear every day would be fundamentally different, eviscerated and tepid. And without the Delta, we can hardly imagine the blues exerting such a powerful influence.
---
Daybook is contributed by Steve King, who teaches in the English Department of Memorial University in St. John's, Newfoundland. His literary daybook began as a radio series syndicated nationally in Canada. He can be found online at todayinliterature.com.