Voices in the dark.
---
Edited by Nell Casey
Begun when he was twenty-five, these journals offer an intimate portrait of the actor who made the autobiographical monologue his signature form. In works such as the celebrated Swimming to Cambodia, Spalding Gray turned the raw substance of his life into performances that poignantly balanced existential despair with mordant humor. But his journals divulge even more about the man who seemingly left it all onstage, revealing an artist wildly ambivalent about his celebrity, whose protean depression would eventually lead him to commit suicide in 2004. Framed by interviews with family members and former lovers, professional rivals and close friends, these pages provide the most haunting monologues of all.
---
By Claudia Shear
On the path to stardom, aspiring actors work a lot of lousy day jobs. But Claudia Shear has most of them beat, and here she takes us on a "tour-de-resume", enumerating all the controlling bosses, nasty colleagues, and purgatorial workplaces she's endured in the 64 jobs (a whorehouse receptionist, a brunch chef, a nude model, an Italian translator, and, of course, a waitress) she held down before finally succeeding in showbiz. Her account is a side-splitting and clear-eyed look at the American job market, all the more relevant in an era of economic free-fall.
---
By Eve Ensler
Worried that a certain part of the female anatomy had been deliberately overlooked by contemporary culture, performance artist Eve Ensler interviewed more than 200 women of all possible ages, backgrounds and ethnicities, about — yes — their vaginas. After convincing her subjects to get over their initial embarrassment, she ended up with a funny, sweet, occasionally unsettling, and emotionally uplifting collection of voices that was tailor made to assault taboos and engender controversy. Initially performed entirely by Ensler (check out this video adaptation, produced for HBO), it has become increasingly popular for a chorus of women to deliver these wildly variant short pieces, which all exult in forbidden words and the power of truth-telling.
---
By Anna Deavere Smith
In the summer of 1991, a three-day race riot erupted in the Crown Heights neighborhood of Brooklyn, NY after the child of Guyanese immigrants was accidentally struck and killed by an automobile in the motorcade of a Hasidic rabbi. Through interviews with participants and bystanders, Deavere Smith creates an remarkably even-handed portrait of the troubled relationship between African-Americans and Jews that earned her a nomination for a Pulitzer Prize. This book captures the text of her performance as well as pictures of the many personae she adopted during the one-woman show, transforming herself with something as simple as a pair of glasses from the Reverend Al Sharpton to an Orthodox Rabbi.
---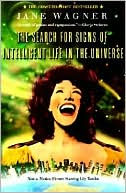 The Search for Signs of Intelligent Life in the Universe
By Jane Wagner
A bag lady hilariously and poignantly attempts to explain the go-go, consumerist, aerobicizing, status-obsessed lifestyle of early '80s America to a curious interstellar committee of aliens. In the first staging of this classic show (captured here on DVD), Wagner's longtime partner, Lily Tomlin, played the homeless Trudy and took home a Tony Award for her performance. But even without Tomlin's wry approach, the text still shines, revealing with exuberant satire the contradictions at the heart of modern civilization.