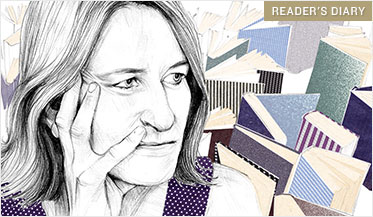 Too Far to Go
Perusing the obituary column over the last few months has sent me back to the work of three favorite writers of mine, all recently deceased. I thought I had read most of John Updike's books, for instance, but a few seemed to have slipped through the cracks. And I soon found myself tantalized by mentions of a volume called Too Far to Go (available in paperback from Ballantine Books), a collection of 17 short stories, written between 1956 and 1979, chronicling the heyday, decline, and fall of Richard and Joan Maples's marriage — a union that seems to have borne a distinct resemblance to Updike's own first union.

"That a marriage ends is less than ideal," Updike wrote in his 1979 introduction to the collection; "but all things end under heaven, and if temporality is held to be invalidating, then nothing real succeeds. The moral of these stories is that all blessings are mixed." Beginning their life together in Greenwich Village and soon moving on to the upper-middle class suburbia that Updike carved out as his particular literary fiefdom in the 1960s and '70s, the Maples and their four children act as a conduit for some of the author's most arresting observations and most seamless prose. If some serious-minded readers have tended to write off Updike as facile, it was only because he managed to make good writing — which is always very, very hard — look so absurdly easy.

Clinging to the Wreckage
Almost as prolific and even more philoprogenitive than Updike was John Mortimer, who died in January at the age of 85. Mortimer pursued dual careers as a London barrister and a writer, producing a great many novels, short stories, plays, and film and television scripts. Probably most famous for his Rumpole of the Bailey books, which throw a comic light on the inner workings of the British legal system, he wrote more serious fare as well, most notably his moving autobiographical play, A Voyage Round My Father, which I can remember seeing in a marvelous televised version starring Laurence Olivier and Alan Bates.

I picked up Mortimer's 1982 Clinging to the Wreckage: A Part of Life (available from Penguin), the first of several memoirs he was to turn out over the next couple of decades, and was — as I could have predicted — entirely charmed, especially by the material concerning his deeply eccentric father and Mortimer's wartime years in London (he was the British equivalent of a 4F) writing propaganda documentaries for the Crown Film Unit. When it comes to more emotional or negative material, though, Mortimer tends to stonewall, very much as he describes his father having done. If you find yourself wanting to know anything about his long and apparently tormented first marriage, skimmed over in this memoir, you would do better to read the more revealing novels of his spouse, Penelope Mortimer (d. 1999), especially her 1962 bestseller, The Pumpkin Eater, which has been reprinted by Bloomsbury Classics.

Three Plays
The playwright Horton Foote, who died in March at the age of 92, has often been called the American Chekhov — too often, in my opinion, for while his plays' unusual mingling of pathos and farce certainly have much in common with Chekhov's work, the style is also purely Foote's own and purely American. No other writer has succeeded in depicting the speech and values and habits and mores of southern middle-class gentility as brilliantly as Foote did during the course of his very long career. His film script for To Kill a Mockingbird is an object lesson on how to bring fiction to the screen without adulterating its character and essence. His original screenplays, which include The Trip to Bountiful, 1918, and On Valentine's Day, succeed by defying all conventional wisdom on moviemaking. At the time of his death, a Broadway production of his play Dividing the Estate was bringing a rapturous new audience to his work.

That play, along with The Trip to Bountiful and Foote's Pulitzer Prize winner The Young Man From Atlanta, have been published together by Northwestern University Press, with a brilliant introduction by John Guare. "Horton's people have no concept of self-dramatization," Guare observes. "Is this Horton's dramatic secret: his characters don't know they're in a play?…Horton's people had a restraint, a decorum that reminded me of — do I go too far? — the abstract purity of a Racine!"

Cleopatra: Last Queen of Egypt
To segue to the work of a living writer, I just spent a couple of days completely engrossed in Joyce Tyldesley's Cleopatra: Last Queen of Egypt (Basic Books). Tyldesley is one of the rare academics who has no trouble adjusting her tone for a general audience, and here she brings her enormous range of knowledge to the task of trying to strip away two millennia of mythologizing and find the "real" Cleopatra, insofar as that is possible in the absence of any primary sources. "Paradoxically," she writes, "the woman whom millions regard as the defining Egyptian queen is more or less ignored by traditional Egyptologists," who confine themselves to the earlier, native dynasties. But the Ptolemies, though originally Greek, considered themselves a valid Egyptian dynasty. "Could an Egyptian-born woman whose family had controlled Egypt for three centuries really be classed as foreign (and if so, where does this leave the British royal family?)"

Even after being shorn of the dubious embellishments provided by Plutarch, Shakespeare, Joseph L. Mankiewicz, and countless other mythmakers, Cleopatra's tale is one of the most romantic and unlikely in human history. Indeed, as is so often the case, the truth turns out to be weirder and more interesting than any of the inventions, and the conclusions Dr. Tyldesley draws not only about Cleopatra's character but about those of the other major players in her story — Caesar, Octavian, and Marc Antony — are persuasive. She also does a terrific job of explaining the alien society of Ptolemaic Egypt to modern readers, no easy task. A fantastic companion volume to this book, by the way, would be Justin Pollard and Howard Reid's The Rise and Fall of Alexandria: Birthplace of the Modern World, available from Penguin.

So would the newly revised and updated Princeton Dictionary of Ancient Egypt (Princeton University Press), by Ian Shaw and Paul Nicholson, compiled in association with the British Museum. A reference work that can double as an elegant coffee table book, this is a browser's delight, covering 4,000 years, including more than 600 entries (each of which has an attached bibliography), and nearly as many illustrations. Written by two archaeologists with 20 years' excavation experience, it will please those with a serious interest in the subject as well as any casual enthusiast.