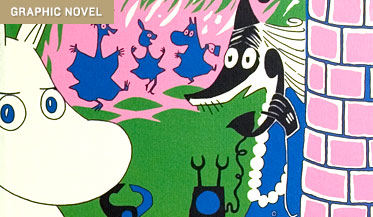 Pimple, a small dog, wears a muzzle at all times to hide his tragic secret. "He daren't show himself," explains his owner, Misabel, a maid. "He isn't very well turned out." When the two are hired to work at the freewheeling Moomin household, Pimple removes his muzzle and admits the truth: He only likes cats, not other dogs. Moominmama, the matriarch, is nonplussed. "Why does he take everything so tragically?" she wonders. "Cats or dogs?all that matters is that one like something." After being scolded by his mistress for his indiscretion, the dog that really prefers cats looks out at the big Nordic moon and thinks. "I wish I were more Moomin-minded?"

Would that we all were. In many parts of the world, Tove Jansson's Moomins — a family of rounded, vaguely hippo-like creatures, with plump bellies and long snouts — are as familiar as Mickey Mouse. There is a Moomin Museum in her native Finland and a Moomin World theme park in Japan. Her illustrated chapter books for young readers featuring the Moomin family and a motley assortment of creatures both real and imaginary, written between 1945 and 1970, have been translated into 34 languages. She found an adult audience as well when the now-defunct London Evening News began to syndicate a daily Moomin comic strip that she wrote and illustrated from 1953 through 1959; her brother Lars continued the strip through 1973.

The United States has been long overdue for a Tove Jansson renaissance, and with the publication of Moomin: The Complete Tove Jansson Comic Strip, we may well get one. This series from Drawn & Quarterly — Book One was released last fall; Book Two was released last week — collects the entire Tove Jansson comic strips for the first time in North America. Presented in oversized hardcover editions, with brightly colored cloth covers, they are a magnificent introduction to one of the wittiest, most generous, most gleeful artists of the 20th century.

Readers who are totally unfamiliar with Moominland will get a thorough introduction over the course of the first two volumes, with four stories each. Moomintroll, the only character often referred to as just plain Moomin, is a melancholy adolescent — or perhaps young man — who mostly lives with his parents (it may be interesting to note that Jansson lived with her parents until the age of 28). His sort-of girlfriend, the Snorkmaiden — who looks pretty much like the Moomin, with a fringe of bangs — is obsessed with jewels and often ditches him, albeit temporarily, for various swashbuckling characters. Moominmama wears an apron, sculpts the daily bread into fanciful shapes, and deems housecleaning less important than throwing a party, complete with fireworks and fancy hats. Moominpapa wears a top hat, drinks a lot of cider, and occasionally ditches the family for various artistic and philosophical pursuits, though, like the Snorkmaiden, he always returns at the end of the story. Little My is a tiny, topknotted thing whose physical attributes most closely resemble those of a human girl. Like the Snorkmaiden, Little My is obsessed with "manliness," which leads the two to both bond and compete with each other.

The Moomins' adventures provide a rambunctious portrait and parody of midcentury bohemian family life, a world that Jansson, the daughter of a sculptor and an illustrator, knew well. Neither rich (like the "millionairess" Aunt Jane, to whom the Moomins send a box of walking, talking "bad language") nor poor (like the "poor relations" who show up from time to time and at one point literally grow out of the ground), the Moomins subsist almost entirely on their capacity to play, invent, and imagine.

Readers who are well acquainted with the Moomins through Jansson's tales for older children, such as Finn Family Moomintroll (which have been in continuous publication through FSG), will recognize the same Moomin-minded spirit and sophistication in the comics. But here, Jansson's canvas is the adult world and she overtly and gleefully takes aim at real-world targets: religion, class, politics, and all forms of pretension, authority, and orthodoxy.

Often, Jansson manages to satire both sides of any situation. In "Moomin's Winter Follies," the Moomins defy their ancestors' tradition of hibernating each winter, only to fall prey to an overzealous winter games athletic director. In "Moomin Begins a New Life," a naturalist prophet comes to town, preaching free love and releasing the prisoners, only to be replaced by a competing moralist who wants to inflict guilt, sin, and punishment. The glorious "Moomin on the Rivera" begins with the family talking their way into a fancy private beach hotel, where they change their name to "de Moomin," hobnob with Audrey Glamour (whose thick lashes and slicked-back ponytail resemble that of Ms. Hepburn), and are admired for their "eccentricity." While skewering the pretensions of the elite, the same story also provides a cautionary tale about the silliness of romanticizing poverty, in the form of the faux-hemian Marquis Mongaga, who claims he would give up his vast wealth for " a little hut and a glass of sour wine" and is convinced that his art would improve if only he were "without food and warmth and happy, happy, happy!" (The Marquis's theory is disproved after a few nights living on the beach under the Moomins' leaky boat).

Jansson provides sly commentary on the art world she inhabits in "Moomin and the Brigands," when Moomin — after discarding fortune telling and the selling of miracle elixir as money-making schemes — is urged by his friend Sniff to make "something baffling! Bewildering!" Rejecting art as a path to fame and fortune, Moomin replies, "I only want to live in peace, plant potatoes and dream."

That is, presumably, exactly what Jansson herself had in mind when she gave up writing the daily strip after five years, claiming that the deadlines involved in producing it had become less of a joy and more of a burden. In her later years, she moved to a small island with her lifelong partner, the Finnish graphic artist Tuulikki Pietil?. The two women collaborated on an illustrated version of Jansson's autobiography and, with their mothers, a series of Moomin portraits now in the Moomin Museum. Jansson's relationship with Pietil? lends a particularly resonant reading to Moominmama's sympathetic treatment of the dog who really loves cats (though her solution — find a dog and paint it with stripes — can suggest any number of interpretations). "You just pretend and pretend!" scolds Misabel, the maid whose life at the beck and call of others has led her to believe that persecution and danger are the only things one can count on. Moominmama replies, "That's why we have such a good time!" As a prescription for a Moomin-minded world, it's as good as any we have.